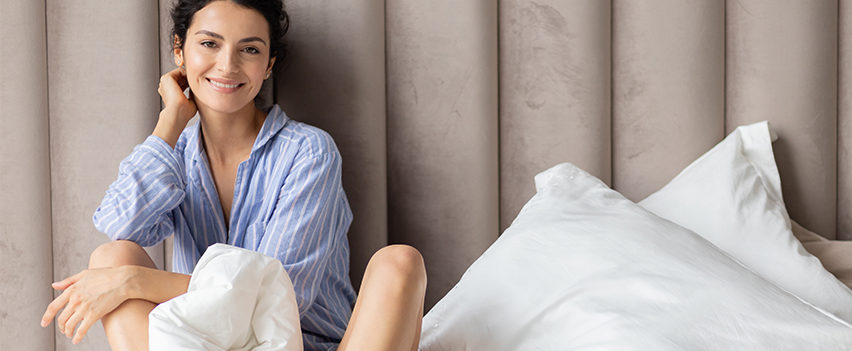 Sleep is considered important for everything. For a peaceful life, for a smooth work routine, for stress-free work life, and of course for good sex life as well. Why step back from discussing this important topic which is an inseparable part of our lives. It is important to know how emerging stress, growing differences, lack of interest, and tiredness in sex life is all because of the lack of quality sleep. Don't believe it? You are supposed to believe. Give a chance to all those things that make your sleep better, and then evaluate the difference. One of the things that play a major role is the Pillow. A couple should sleep and take proper rest along with quality pillows that are offered by Sleepsia. To be true, Bamboo Shredded Memory Foam Pillows are magical! Let these pillows spread magic while you romance. These pillows provide quality sleep and to know how quality sleep can jumpstart your sex life, read below:
Bamboo Shredded Memory Foam Pillow + Quality Sleep = Good Sex Life!
This is a formula that can never fail! It is because these pillows have several benefits that we will discuss first. After knowing the benefits, it will be clarified how these Bamboo Shredded Memory Foam Pillows are suitable for quality sleep. Next, we will discuss how quality sleep will enhance sex life. So, let us begin with the benefits of these pillows:
Hypoallergenic: These pillows are hypoallergenic so these will not let the couple catch up irritability, or allergic reactions through bugs, dust mites, microbes, etc. Imagine allergies disrupting your sleep as well as cozy times! So, never let these pillows skip from your bedroom.
Super Soft: These pillows are soft and cozy. The cover is made out of natural bamboo pulp that enhances the freshness. We all know how much fresh flow of air is required while sleeping or while relaxing. These pillows are super-dooper breathable.
Bamboo Shredded Memory Foam Pillows Are Flexible: These pillows are filled with shredded memory foam. This makes the pillows malleable and flexible. These pillows are thus supportive in hard times when the body is undergoing pains, when muscles are torn out, or when cervical or migraine is alarming! These pillows mold as per the body. Thus, it is a benefit in the midst of cozy hours, as well as sleep time.
Also, the preferences of the couple can be different. These are adjustable too. One can put in or pull out the desired amount of shredded memory foam that comes along with it. So, a couple can cherish dissimilarities in similarities. Also, the available sizes of King Pillow, Queen Pillow, and Queen Pillow makes it possible for the couple to choose as per their choice.
Bamboo Shredded Memory Foam Pillows Enhancing Sex Life!
Bamboo pillows are known to end the stress from our lives. This is the basic and root cause of how these special pillows bolster sex life. Cortisol is a hormone that is produced while an individual is in stress. This lowers the productivity of testosterone which is responsible for the sex drive. So, stress is the major enemy of good sex life. Thus, Bamboo Shredded Memory Foam Pillows let the couple submerge in deep sleep super soon with its excellent features and benefits. This doesn't give them a chance of fighting, quarreling, or thinking about stressful events. Also, it creates a great air circulation. Temperature also matters in sex life. These pillows ensure to maximize the breathability and lower the sweating. The covers of these pillows are hygienic, clean, and washable. So, that is an add on. So, for increasing the testosterone, and estrogen levels, sleep is important. Sleep restores energy and rejuvenates. And we all know how being energetic is important to keep the spark alive!
Final Words
The final words ask the couples to look forward to a bright life.
Think about yourself also.
Give each other some time.
Consider each other's busy schedules and plan accordingly.
Motivate each other to quickly wind up tasks and sleep to restore energies.
Follow light meditation or exercise.
Follow the couple-entertainment activities once in a while.
The most important, bring Bamboo Shredded Memory Foam Pillows in your bedroom!
To do so, order the best ones from www.SleepSia.com, and contact us on +1800-862-1084, to know more about it!
Wishing you happy times!
---
---