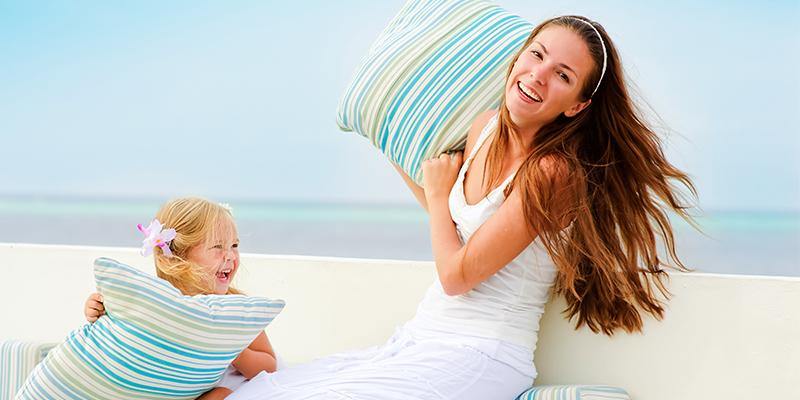 Scorching heat, horrible temperature, and sweat droplets falling all over. Imagine this scene and think about what can work wonders in this situation? Energy drinks? or juices, or smoothies? These work and provide a cooling effect but is it for a long time?
These might work instantly but the effect prevails for the short term. Believe it or not but pillows and sleep play a major role in letting the summer lower down its harmful effect. So, if someone says you to, 'Switch To Bamboo Pillows This Summer', follow the instructions blindly.
It is because the bamboo pillows help you to tackle summer in a different way, in a better way, and in an effective way. Not many know sleeping helps to calm the brain. A calm and peaceful sleep brain helps tolerate summers amazingly. Let us know how these pillows help us in tolerating it.
Bamboo Pillows Spreading Cooling Effect In The Summers!
These pillows are super airy and breathable that increase air circulation. These are responsible for ventilation. So, no chances of sweating in summers.
Bamboo Pillows Be Super Airy: These pillows are indeed soft giving its users the best ever sleeping experience.
These Pillows Don't Let Sweat: These don't let the users sweat and face trouble in the summers while sleeping.
Natural Pillows: These are made up of bamboo pulp. Natural pillows are responsible for providing an airy, fresh, and breathable environment.
Bamboo Pillows Be Super Healing Pillows In Summers!
One, summers and two, health hazards. This combination is troublesome. Summers affect the strength to tackle pain and stress. It adds to the menace. The bamboo pillows are capable enough to support the neck, shoulders, spine, head, and the entire body.
It Protects From The Muscular Wear And Wear: The pillows are filled with the chunks of shredded memory foam. This foam is a high-quality memory foam that molds the pillow according to the body. The pillows minimize the stiffness, muscular pains, and ortho issues in the body.
It Provides The Mental Wellbeing: These pillows provide extra help by being mind doctors. These pillows limit stress and anxiety by providing deep and sound sleep. A peaceful sleep matters the most especially in summers.
Hypoallergenic Bamboo Pillows Providing Relief In Summers
These pillows are hypoallergenic too. These do not let the allergens, dust mites, pollens, bacteria, etc. stay trapped in. The washable cover and hygienic cover keeps the pillows fresh and clear. These pillows use antibacterial bamboo fabric. Imagine being targeted by allergens in summers. It is an additional nuisance. These bamboo pillows help a lot in facing the problems of allergies in summers. So, 'Switch To Bamboo Pillows This Summer.'
Choose The Bamboo Pillows This Summers!

Bamboo Pillows are highly beneficial and highly recommended, especially in summers. Choose these pillows as these pillows are:
Airy, Breathable, and Soft.
The Adjustable ones can be customized. The desired amount of shredded memory foam can be put inside and taken out as per requirement.
These pillows are available in Standard size, Queen size, and King Size Pillows.
These pillows are created with natural bamboo fibers. These fibers are obtained from bamboo pulp. The fibers are further converted into the natural bamboo fabric that is used in the making of these pillows.
Tips To Follow In The Summers!
Summers are happy, sunny but difficult too. So follow these tips to make the most out of summers:
Keep yourself hydrated. This is the most important.
Consume salt and lemonades. Due to sweating, salt levels might go down. So, having salty and sugary lemonades work wonders.
Eat fruits. These are beneficial in summers.
Try to stay ventilated.
Wear loose and cotton clothes.
Apply sunscreen and good body lotions to protect your skin.
Wear glasses to guard your eyes against the sunlight.
The most important, sleep on Bamboo Pillows.
Conclusion!
Summers are easy to tackle if we get a good amount of sleep. These pillows are superb for all sorts of sleepers. Sleeping sideways or on the back or on the tummy is easy with these pillows. Go ahead, and 'Switch To Bamboo Pillows This Summer.' To order these pillows, go to www.SleepSia.com. To know more about it, ring on +1800-862-1084.
Have a fantastic summer season ahead!
---
---