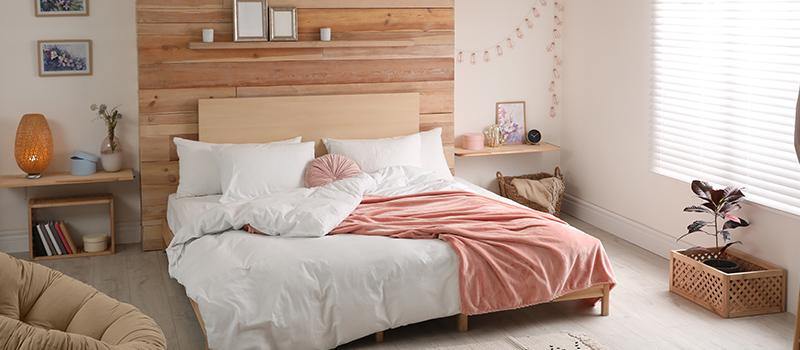 We all wish to have a soothing sleep. A dreamy and perfect sleep. We all know what the year 2020 has presented to us. However, it is now our responsibility to not let the painful times take away our sleep. The first and foremost thing that helps to provide a deep sleep is a pillow. SleepSia Bamboo Pillows for sleeping are created with a great quality of shredded memory foam and bamboo cover.
These pillows are one of the 'Things To Help You Sleep.' There are many sleeping essentials but pillows top the list. One rigid pillow and your sleep are ruined. At present, our focus should be to restore the lost energies. Covid-19 took away our sleep, our relaxation, our peace. Therefore, it is very important to understand that a slight change in our existing sleeping patterns will help us rejuvenate and emerge as healthy and powerful beings.
Change Your Sleeping Routine And Grab Bamboo Pillows For Sleeping!
It is high time we stop worrying and thinking about depression. The times are hard and we need to involve many things to help us have a great sleep.
Sleep Early

: It is very important to sleep early to get up early so that life routine smooth ens. Don't forget to sleep on Bamboo Pillows as these let you sleep calmly.

Types Of Clothes

: The types of clothes are also important to sleep. Loose clothes that keep you light and ventilated. The Bamboo Pillows also increase air circulation. It is an addition to have a fresh and soothing sleep.

Types Of Food

: Eat a good amount of healthy diet. Smoking, excessive alcohol, and caffeine can be a hindrance to sleep. Green veggies are always an add on! Have a good burp and doze off on the Bamboo Pillow. These pillows are also hypoallergenic so these pillows don't let allergens attack the user.

Exercise

: It is another thing that helps the person to float in the world of dreams. Out of 'Things To Help You Sleep', this is the most beneficial one. It not only heals the body from different diseases and keeps you fit, but it also gives good sleep. After working out, the body needs some relaxation and rest. So, it becomes easy for the body to sleep.

Meditation

: Believe it or not, meditation is magical. It calms the mind, protects it from stress and depression. A stress-free mind goes to sleep earlier than the brain which is tired. Do you know SleepSia Bamboo Pillows are also stress-buster pillows? The extra soft surface, non-sweating bamboo pillow, and breathable pillow make the user feel at the top of the world.
Why Are Bamboo Pillows Important For Sleeping?
Bamboo Pillows are the most essential for sleeping because these come in three sizes so these support all its users in every possible way. The adjustable pillows are customizable. The shredded memory foam in these can be taken out or put in as per requirement. Also, the pillows cure the user in the cervical pain. Migraine, Insomnia, stiffness, etc. are all shown the exit by these pillows. These pillows have washable and removable covers that promote hygiene. Also, these pillows are the Certi-Pur US Certified so no chances of V.O.Cs or toxic material.
Conclusion
It is important to know that sleeping is very important. One needs to have a good sleeping routine to be able to carry on life with ease. 'Things To Help You Sleep' can be many but SleepSia Bamboo Pillow top the list. So, to order these pillows, go to
SleepSia
, and call us on
+1800-862-1084 to know more.
---
---