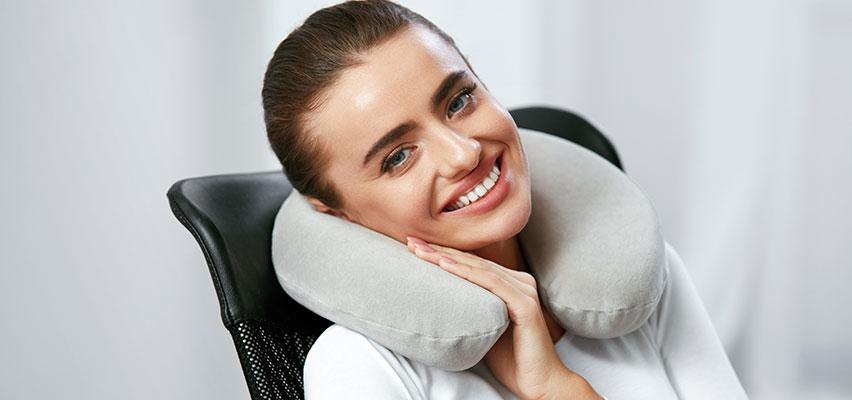 Traveling becomes comfortable, happy, and peaceful when it is with bamboo neck pillows. These pillows are the best traveling pillows. A journey becomes memorable and comfortable if it proceeds with ease. Hills become more pretty, the sun and the clouds seem beautiful all the more, and green lands seem more soothing if a traveler feels enthusiastic from within. This can become possible only with these special pillows. It is because these pillows are supportive of the lethargic bodies during traveling.
One is supposed to restore all the energy to later use it to enjoy the vacation to the fullest. One is supposed to stay active and happy to enjoy every single moment of the journey. But sitting at a single position, not being able to move and relax and not being able to stretch the bodies makes it difficult to cope up with the tiring journeys.
To be true, journeys can be fun if we enjoy as well as sleep while traveling. For that, it is necessary to keep the neck, back, and shoulders at peace. These body parts need to relax to let the entire body stay charged up. Otherwise, the seat hurts, the arms of the seat make the traveler itch, and the feeling of being captivated in a place spoils the mood. So, using traveling bamboo neck pillows is the biggest ever benefit. Don't know how? Read below to know about it!
Bamboo Neck Pillows Be The Best Traveling Pillows!
These are amazing in terms of providing relaxation, peace, and satisfaction. These possess health benefits too.
Wrap Around The Neck To Stay Calm: These pillows support the neck, head, the upper back region, along with the shoulders. This further supports the entire spine.
Use These Hypoallergenic Pillows To Travel Safe: Stay safe from allergens amid journeys! The bugs, bacteria, allergens, etc. hide in the fabrics, the surface of bags, clothing, etc. during the travel and create havoc for the traveler. The Bamboo Neck Pillows are Hypoallergenic pillows and protect the traveler from irritability, sneezing, itching, running nose, etc. Such allergic reactions ruin the journey.
Let These Pillows Keep You Healthy: Long sitting hours, no movement, and bad posture while traveling may give rise to cervical and muscular wear and tear. These pillows protect the traveler from such issues while traveling.
Stay Fresh With These Bamboo Neck Pillows: These pillows are naturally made from the pulp of bamboo. Further processing converts the bamboo fibers into the finest bamboo fabric that is used in making of these pillows. This helps the pillows to stay breathable and increase the circulation of the air. Breathable bamboo pillows set of 2 are always a blessing to the lungs, to the mind, in fact to the entire body.
Bamboo Neck Pillows A Must In Your Travel Kit!
While packing for traveling, this special pillow is a must in your travel kit. Forget clothes, forget gadgets but never forget these pillows. Also, remember to follow these steps while traveling:
Keep yourself hydrated. Water, lemonade, juices, etc. protect you!
Eat Light. Don't stuff too much because you might not get a chance to walk around easily. Stuffing in and then sitting on the seat for long hours can be a reason for acidity.
Keep Bamboo Neck Pillows on the top priority list while traveling.
Carry nice earphones or headphones that can help in the noise cancellation and can let you only focus on your songs.
Try and play nice soothing tracks that can help you sleep. Of course, bamboo pillows help to bring in nice sleep while traveling but songs do play a major role.
Stay positive and happy. This can help you enjoy every second of your journey and then later, your destination!
Conclusion
The world has seen a lot of change now. Travelling has become hectic these days because of the changes in life routines. We aren't familiar with exertion. And traveling brings exertion and pressure. To ease our journeys, these bamboo pillows have been created. So, traveling neck pillows are the best traveling pillows.
These are highly recommended to everyone. To make yourself fit and fine, active, and chirpy, healthy, and peaceful, it is important to carry these pillows while you travel. Explore our variety of bamboo pillows and order those from www.sleepsia.com. You may also give us a call on 1800-862-1084 to seek answers to your questions.
Have a safe journey!
---
---