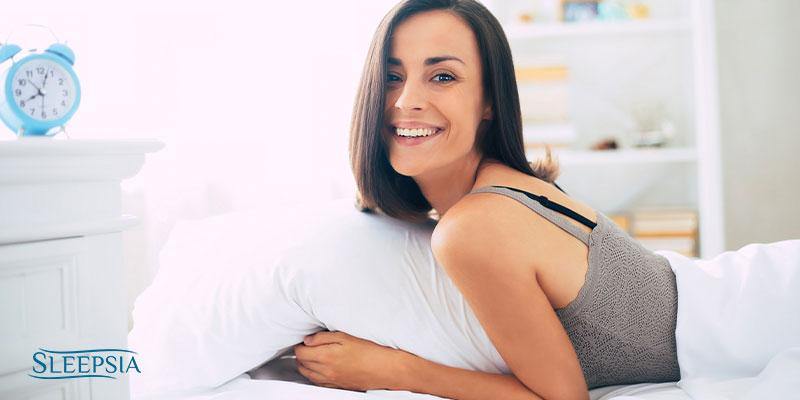 We grab pillows, hug them, throw them, flip them, sleep on them, cry on them, and do multiple other things. Our life is incomplete without pillows and still, we don't consider choosing the right sized pillows with appropriate fillings for us. Our pillow should be the most comfortable pillow of all. Our bed can only become the 'bed of roses' if it possesses the softness of good memory foam pillows. Memory foam filling makes a pillow the best pillow for sleeping.
So, if someone is getting up in the morning all irritated, suffocated, in pain, and with stiffness, then the pillows are to be partially blamed. One should think of replacing the old and rigid pillows with better ones such as the Bamboo Memory Foam Pillows or Tempurpedic pillows made by Sleepsia. The decision isn't over yet! Size of the pillows for sleeping matters a lot. This is the reason why before buying pillows, we hear wise shoppers raising the question of 'What Size is a Standard Pillow?' or 'Which is the better one? King or queen size?' To know more about how sizes matter and what is the appropriate size of the pillows for sleeping, explore the article below!
Best Pillows for Sleeping are Appropriate in Size
There is no use to spend on large sizes of pillows if you are used to sleeping in a compact and less space. Those who sleep limitless and don't mind having pillows bigger than their heads can seek king size but regularly, the standard size is appropriate. Standard pillows are suitable for all sorts of sleepers.
Bamboo Pillows in Standard Size for all the Sleepers
When it comes to shredded memory foam bamboo pillows, Sleepsia makes the best pillow for sleeping. The standard-sized pillow is created keeping in mind the requirements of the user. It is just apt for elders, teens, as well as for kids. The size is easy to manage and take care of.
Dimensions: The shredded memory foam bamboo pillows come with the dimensions of 20" ×26" ×5". The 5" of the loft provides comfort to the head and keeps the neck aligned.
Fit For All Age Groups: This size is appropriate for old people, elders, and children as well. Kids and teens need to have a better-sized pillow as per their age. Not too big and not too small!
Standard Bamboo Pillows are Easy to Handle
Usually, larger pillows need more attention and care. However, it depends from pillow to pillow. Sleepsia makes pillows in various sizes but its king size bamboo pillow is easy to manage even if it is bigger than others. The various sizes are created just for the choice of the people. Some like to sleep and submerge their heads in a large space while some are okay with their manageable space. Considering that, standard size seems fit for almost all.
Easy To Travel: A standard size pillow, unlike other huge clouds is easy to carry along while traveling. Memory foam pillows mold as per the body so while sitting in an airplane or while sleeping in the sleeper train or bus, carrying along this sized bamboo pillow is considered apt.
Easy To Shift: Also, if one wishes to sit in the living room and watch tv while relaxing the spine, this size of the most comfortable pillow by Sleepsia makes it easy. One can play video games, sit along while working on the desk, enjoy tea near the window, or rest on the lower bedding with the standard-sized pillow. It is because it is easy to lift, carry, and shift from one spot to another.
Best Tempurpedic Pillows also Available in Various Sizes
There is a wide range of tempurpedic pillows available in the market with various sizes and designs. The appropriate one is the cervical pillow for neck support by Sleepsia. This type of pillow is an orthopedic pillow that is contoured. The best part is that it is a double-sided pillow for relaxation!
Standard Orthopedic Pillow With Dual Measurements
Sleepsia makes comfortable orthopedic pillows contoured, providing dual benefits. One is the less heightened side and the other side is with more height.
Dimensions: The standard contoured orthopedic pillow is with dimensions of 53*32*11/6 cm.
Two-Sided Dimensions: Dual-sided dimensions indicate convenience to the users in two different ways. Those who want their heads a little high can flip the pillow towards a more heightened side and those who want their cervical pillows for neck support, a little low, can choose the less heightened side.
For Neck Support: These dimensions make it the best pillow for sleeping with cervical, stiffness in the muscles, and pain in the back. It comforts the hollow space between the head and the neck and helps to maintain the natural curve.
What Makes These as the Best Tempurpedic Pillows?
The above-mentioned pillows have received great love from people. The cervical pillow by Sleepsia in standard size is made up of memory foam that shows a slow rebound and is created with A-level quality material.
Cradle The Neck: The middle portion of the pillow cradles the head for support.
With Side Panels: The convex side panels support the side slippers by comforting the shoulders.
Cervical Guarding Area: The cervical protection area of the pillow helps to keep the curve of the neck.
Better Blood Circulation: This pillow promotes better blood circulation too.
Why Choose a Standard Sized Memory Foam Pillow?
A- memory foam filling and B- standard size. It's a perfect match! Out of all the types of fillings, memory foam serves the purpose in the best way. The two most popular pillows filled with this foam are the bamboo pillows for sleeping and the orthopedic pillows in butterfly-shaped, contoured.
Standard Sized Bamboo Pillows For Overall Wellness
A good quality bamboo pillow is the best pillow for sleeping. It not only provides a healthy sleep but also refreshes the mind of the user. Hence, it gives physical and psychological wellness throughout the night.
Breathable: These pillows filled with shreds of memory foam are airy, breathable, ventilated, and cool to let the users stay fresh and rejuvenated.
Hypoallergenic: The most comfortable pillow can be a clinically supportive pillow too. Dust-mites resistant, this pillow keeps the allergic reactions away from the users.
Stress-Buster: These pillows let the user doze off to sleep without stressful and anxious thoughts.
Standard Size-The Apt Size: A standard bamboo pillow as said above if suitable for all age groups and all types of sleepers too. Be it a back sleeper, a side sleeper, or a tummy sleeper.
Standard Sized Orthopedic Pillows for All
A standard-sized cervical pillow for neck support is also suitable for all. It is important to make it a part of the present day life.
For Better Relaxation: Kids and adults, almost everyone is struggling with a hectic lifestyle. From continuous desk jobs to regular work from home, adults are struggling with neck pains, cervical, backaches, etc. Kids on the other hand have developed habits of bad postures and binge-watching. An orthopedic pillow in standard size lets the body relax and feel better.
For Better Mornings: A new day, a new morning is a kickstart to new challenges. If the body and mind isn't refreshed for new opportunities and challenges, and is rather burdened with the previous pains and stiffness, then it is a complete failure. This is the most comfortable pillow for neck and back support to let users get up with no pain, and only gain!
What Can Save Us Along With the Pillows?
Pillows are the saviours, undoubtedly. Choosing a right sized pillow also adds to the benefits. A right sized pillow is the pillow chosen as per the choice, body size, bed size, spot of sleeping and resting, or as per traveling purpose. However, along with pillows, our habits also contribute in making our lives easier and healthy.
Things to Do Have Better Sleep With Pillows
It is important to keep certain things in mind while sleeping or throughout the day. It is because these will double the benefits of the standard sized pillow we use to sleep.
Believe in 'Early to bed, early to rise, makes a man healthy, wealthy, and wise.'
Make a strict sleeping routine to let the circadian rhythm or the body clock adapt accordingly.
Do not stuff yourself with fried and heavy food before sleeping.
Meditation and exercise should become a part of one's life.
Wear comfortable clothes before sleeping.
If possible, dim the lights and spread nice odour with air purifiers or essential oils before sleeping.
Also, keep your gadgets away while sleeping.
Don't forget to sleep on the most comfortable pillow. No compromise with the pillows, please!
Choose the Standard Sized Pillow and Sleep Well!
Out of all the sizes available as per the choices, 'What Size is a Standard Pillow?' has become clear. So, then why not step ahead and choose the best for us and our loved ones?
Undoubtedly, Sleepsia pillows are the best tempurpedic pillows and each of the pieces is the most comfortable pillow. It is important to understand that a pillow which serves the purpose of being an appropriate size, of being hypoallergenic, of being soft, of being durable, and of being super comfortable, is the best pillow for sleeping.
---
---