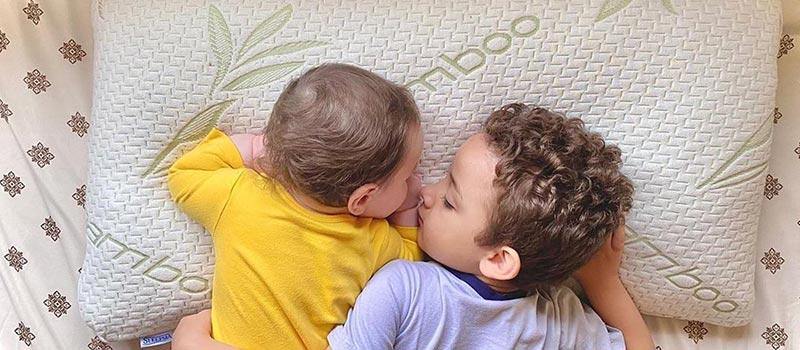 Bamboo Pillows are miraculous pillows. These are prepared with the motive of giving comfort to the users in such a way that users get pain-free sleep, cervical-free sleep, and stress-free sleep. There are many 'Interesting Bamboo Pillow Facts' that will blow away your mind! Before knowing those facts, it is important to realize that in the present times, sleeping without pillows is useless.
We spend our time doing several things but we fail to achieve a comfortable sleep. Stop presenting yourself the lavish stuff if you are suffering from insomnia. Invest in good and wise presents. Gift yourself and your loved ones a good set of pillows so that you and your loved ones can achieve mental and physical health. Nothing is better than having the pillows made up from bamboo. It is the most organic and natural way of attaining sleep.
Remember, gaining sleep in the natural way is very important today. Covid-19 times are hard. People are suffering a lot. Their mental peace and their sleeping patterns are getting affected. Therefore, it is necessary to choose the best and the wise. Know something interesting about bamboo pillows and choose the best!
Know Some Mind Boggling Facts About Bamboo Pillows!

Sleepsia believes in giving you the best pillows. These pillows are suitable for everyone. Made with the antibacterial bamboo fabric and shredded memory foam, these pillows are wonderful. Here are some facts about the pillows made up of bamboo.
Organic

: These pillows are natural and organic. Bamboo is used to obtain natural fibers. These fibers are further converted into the soft bamboo fabric. This fabric is used to make the pillowcase and zippers are attached to make removable and washable covers.

Hypoallergenic

: The Bamboo pillows are hypoallergenic. These are dust-mites resistant and don't let the allergens attack the users. Symptoms like sneezing, coughing, rashes, red eyes, etc. shoo away.

Natural

: Sleepsia makes the pillows that are natural and healthy. These are Certi-Pur US Certified pillows. This means no involvement of highly volatile organic compounds and no chemicals.

Healthy Pillows

: These pillows are highly healthy. The touch of bamboo and filling of shredded memory foam make the pillows suitable for minimizing cervical, spondylosis, arthritis, stiffness in the muscles, sleep apnea, etc.

Breathable Bamboo Pillows:

The credit for increasing ventilation while sleeping goes to these pillows. These have the power of enhancing the air circulation and limiting the sweat. Completely fresh and soft pillows!

Durable Pillows

: Bamboo ones are known to last forever. Unlike other rigid pillows refusing to mold according to the body, these pillows easily retain their shape too. The pillows made up of bamboo and shredded memory foam can stay for longer periods than other pillows.
Facts That Make Sleepsia Bamboo Pillows Special!
Sleepsia has a great and efficient team working relentlessly to fulfil the requirements of the users. The aim is to restore the peace and sleeping patterns, especially after the trauma of Covid-19. Let us know some more 'Interesting BamBoo Pillow Facts' that make Sleepsia pillows super special.
Stress Buster Bamboo Pillows:

These pillows are stress-busters! These let the user sleep immediately without thinking about the stressful events of life.

Available In Different Sizes:

These pillows are available in three sizes of king, queen, and standard. Choice is yours!

Available As Two-Pack Too:

These are available as one-pack and two-pack too.

Available As Adjustable Pillows:

The best part is that one can customize the pillows accordingly. The pillows that come with an adjustable loft of 5" allow the users to take out the required amount of shredded memory foam from inside the pillows. It can be restored to be used later. Easy! Isn't it?

Perfect For Interior Decor:

These bamboo pillows are perfect for beds, couches, floor-beddings, and even sofas. These enhance the look of the house!

Perfect For All: These are perfect for all the age-groups. Highly supportive of all the sleepers, be it side sleeper, tummy sleeper, or back sleeper!

Imagine benefits of these pillows being showered upon you. Undoubtedly, market is flooded with sleeping essentials. But nothing can beat the comfort provided by Sleepsia Bamboo Pillows. These pillows ensure the spine alignment and neck alignment. No chances of pain or stiffness. These are perfect for ortho issues and are appropriate to be used in pregnancy too. All-in-one pillows!
Final Words
Our final words suggest you all to order the best pillows i.e the Sleepsia Bamboo Pillows. After knowing 'Interesting Bamboo Pillow Facts', it is advisable for you all to go for some wise decisions. Order these pillows from
SleepSia
and call us on
+1800-862-1084 to know more about it.
---
---