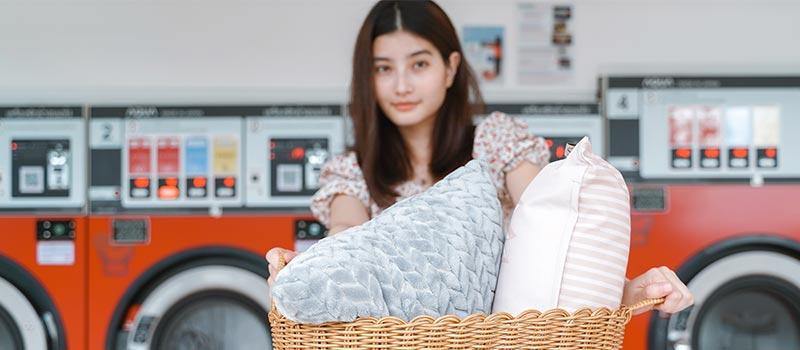 Bamboo Pillows are the most comfortable pillows. These come with the combination of airy bamboo pillowcase and shredded memory foam. Sleepsia brings a great range of pillows that aim to rectify the sleeping patterns and are suitable for all age groups. These pillows are highly durable and hygienic.
The material used is of high quality and thus, none can beat these pillows. Just because these pillows take care of us in the best way possible, it is important for us to take care of these pillows too. 'How to clean bamboo pillows?' is the most important question that pops up when one thinks of buying these pillows. It is not rocket science.
It is as easy as A, B, C! These pillows are not high maintenance. These only require a little effort, a little care, and some soft handling. Unlike many rigid pillows, these aren't harsh at all. These stay soft and breathable throughout. Just some water, dry cloth, and a nice shake! And the bamboo pillows are good to go. Also, if detailed or deep cleaning is required, that isn't difficult either. Let us know more about it.
Clean The Bamboo Pillows And Cherish A Hygienic Sleep!
Hygiene is synonymous to Sleepsia Bamboo Pillows. These pillows come all vacuum sealed and flat. The compressed pillows are easily fluffed up and then used. It is easy to fluff up these bamboo pillows by shaking them or through tumble dry on low heat settings. After fluffing up, keep the pillows in an open airy area for cross ventilation and you are good to go! Now what if your pillow witnesses a stain? How to clean it? It is super easy. Read below to know more:
Use Cloth To Clean:

Just dip a cloth in the water and rub it lightly on the stain. Try and sprinkle some baking soda and clean it with dry cloth again.

Removable And Washable Cover:

The bamboo pillows have removable and washable covers. These can be cleaned easily.

Don't Use Bleach

: It is a big no! Never use bleach and it is the most harmful for the pillows.

Don't Use Extremely Hot Water

: It is not advisable to wash the pillows with extremely hot water. Mild temperature is fit for the pillows.

Don't Keep The Bamboo Pillows Under Direct Sunlight:

To dry the pillows, don't keep those under direct sunlight. Always cover it with some other cloth and then let it dry. There must be a partition in between the sun and the pillow.

Follow Instructions For Cleaning:

The memory foam shreds are very special. The filling is covered with the removable pillowcase. So, follow the instructions written on the package before cleaning. Use zippers to detach the covers and then clean the covers. Keep the rest of the pillow in the ventilated area. There isn't any need to soak in the memory foam in the water. Be careful while doing it and be super vigilant while handling the foam of the pillow. So, now you get the answers to the question 'How To Clean Bamboo Pillows?'
Clean And Tidy Bamboo Pillows Give Us A Comfortable Sleep!
Sleepsia Bamboo Pillows are super comfortable. These are -
Airy

Hypoallergenic

Hygienic

Flexible

Soft, and

Stress-Busters
Also available as 2-pack and adjustable pillows too, these pillows are known to cure muscular pains, cervical, stiffness, orthopedic issues, and even sleep apnea. Known to reduce the suffocation and increase ventilation, these pillows calm down the body while sleeping. These pillows are super fresh and reduce the chances of insomnia.
What great qualities in these pillows! The pillows are so amazing that these look perfect on the beds, on the couches, and even on the floor bedding. Perfect travel partners, great pregnancy pillows, brilliant body pillows, and stupendous organic pillows! All-in-one!
Conclusion
Now that you know the answer to the question of 'How To Clean Bamboo Pillows?', go and buy these wonderful Sleepsia Bamboo Pillows from
SleepSia
. Why worry about handling these pillows when it is super easy. Also, give us a call on
+1800-862-1084 to know more about it.
---
---