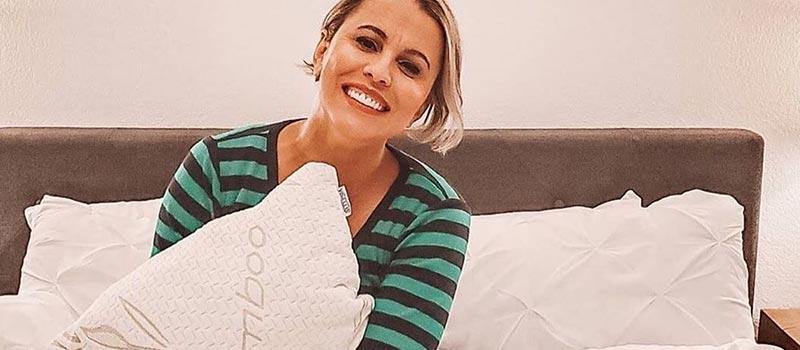 Pillows play an important role during pregnancy. Expecting mothers undergo many changes during pregnancy. Emotional, physical, and mental changes. Sleep is of the most important to expecting mothers. This special stage requires tons of comfort for them while sleeping which is possible with the bamboo pillows. So, the 'Best Pregnancy Body Pillow' is none other than SleepSia Bamboo Pillow!
So, if you are going to be a 'would be daddy' and you want to bring the best for your wife, present her with these pillows. There are many high-density memory foam pillows too that are also known as orthopedic pillows. These pillows are the best as pregnancy pillows too. It is because these can be placed in between the legs and the lady can relax while sleeping. On the other hand, the shredded memory foam bamboo pillows provide comfort from all sides. Let us know more about it.
Bamboo Pillows, the Best Pregnancy Pillows!
These pillows are not just important but the need of the hour. Your woman needs these pillows clearly because:
These Pillows are the Biggest Emotional Support

: These pillows are known as stress-buster pillows. The lady who is going to become a mother undergoes several mood changes. She might have a ruined sleep. In that case, these pillows support her. For sure, she will fall in the deep sleep without thinking much and with tons of positivity.

These Pillows are Breathable

: Usually, pregnant women can sweat or feel swelling. These pillows help cure both of these issues. These pillows increase air circulation and ventilation. The mother and her baby feel safe in a soothing and airy environment.

Bamboo Pillows Cure the Pains of the Pregnant Women

: These pillows cure pains emerging during pregnancy. The woman might feel tired, swollen, and the stiffness in her body. These pillows help to soothe her by providing no pain!

Hypoallergenic Pillows be the Best

: Not forgetting, any sort of allergic reaction to a pregnant woman can be a mess. But these anti-dust mites and anti-bacterial pillows don't allow the dust mites to attack her and cause nausea, sneezing, running nose, rashes, or red eyes, etc. to her.
Along with Bamboo Pillows, What else is Required to a Pregnant Women?
This is a beautiful phase. A new journey. Each day brings something new for the mother carrying her baby in the womb. The baby takes up her nutrition, her rest, her things! So, expecting mothers should be extra careful and take care of themselves. For the people of her house, they need to be supportive of her.
First of all, opt for the 'Best Pregnancy Body Pillow' i.e SleepSia Bamboo Pillows and place them in her bedroom.

Next, keep her happy.

Let her eat what she wants. However, that shouldn't be harmful as per the doctor.

Regular visits to the doctor are mandatory.

Never take any condition, anything for granted. Don't bring the thought process of 'It is nothing!' Not everything is to be ignored if you are becoming a mother for the first time.

Let her listen to good music and let her cherish whatever she likes.

Take her for walks and let her enjoy light breathing exercises and yoga with advice from the doctor.

Above all, believe in positivity.
Conclusion
The SleepSia Bamboo Pillow is the 'Best Pregnancy Body Pillow'. Order it from
www.SleepSia.com
. Available in three different sizes i.e King, Queen, and Standard, these are suitable for everyone. Without even thinking much, simply order these pillows and give us a call on
+1800-862-1084. Team SleepSia wishes all the expecting ladies good luck! This journey will be similar to a roller coaster. Cherish every moment of it!
---
---