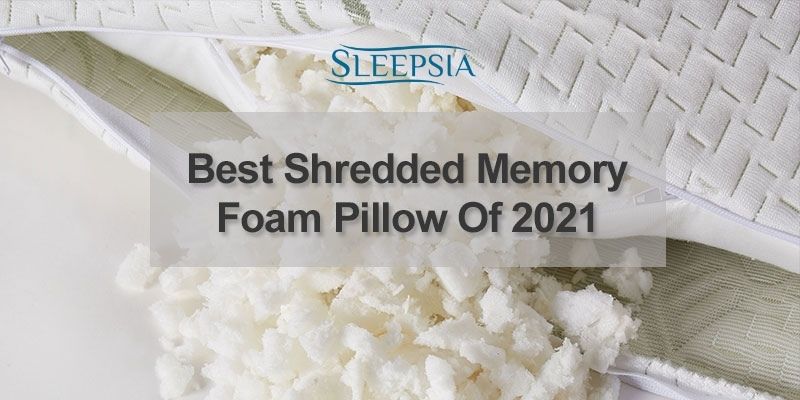 2020 went with harsh memories while people welcomed 2021 with great optimism. However, this year can become better and healthier only if people initiate to keep themselves healthy and happy. This can only happen if people try to focus on their sleeping patterns because sleep is the cause of either wellness or ailments. With an increase in work pressure, pandemic stress, vague routines, and constant fear, people are undergoing sleeping ailments. Not many think of changing their pillows.
But those who think wisely know that pillows are to be partially blamed. Those who know how pillows impact their sleep have already chosen Sleepsia Bamboo Pillow as 'Best Shredded Memory Foam Pillow Of 2021.' Those who know how the most comfortable pillow can transform their lives, don't waste even a second in adjusting to the old and rigid pillows. A healthy pillow is the need of the hour and pillow becomes healthy due its properties, breathability, filling, shape and size, and design.
Know About Memory Foam and Its Pillows!
Memory foam pillows are always a better idea! A memory foam pillow conforms to the head and neck and supports the spine in the best way possible. Memory foam is stuffed in the core variety and in the form of shreds too. Each pillow created by filling in the memory foam helps to let the user sleep flexibly.
When Was Memory Foam Used First?
Memory Foam was created in 1966 with the vision to support the betterment and safety of aircraft cushions as per the efforts of NASA's Ames Research Center. Called 'slow spring back foam' previously, it was given this name due to its property of springing back to its original shape.
It was used in the medical field to support patients sleeping on them with better blood flow.
It became popular for the usage of X-ray table pads and helmets. How interesting it is to know that today, its complete commercialization has produced a variety of memory foam pillows for the betterment of people.
It is used today for pillows, wheelchairs, sports equipment, etc.
Memory Foam Pillows vary from shredded bamboo pillows to cervical neck support pillows and many others.
It is today combined with gel to produce gel-infused pillows for airy and cool sleep.
Difference Between Core And Shredded Memory Foam Pillow
The two popular types of memory foam pillows are the core ones/traditional and shredded memory foam pillows. These are equally loved by people. However, people are showing love for the best pillow for sleeping which has memory foam shreds in it. Let us figure out how these two types of pillows are different from each other.
The difference in the making: A solid memory foam pillow is a single piece pillow having memory foam used to make one pillow. On the other hand, a shredded memory foam pillow is filled with shreds or pieces of the memory foam. Sleepsia uses fresh and not recycled chunks of this form to create the most comfortable pillow for sleeping.
Option Of Customization: The option of customization comes with an adjustable shredded memory foam pillow rather than a solid one. It is because the pillowcases can be unzipped to either remove or add the desired amount of memory foam chunks.
Variants Available: The most comfortable pillow is the one that can adjust according to the body. While a shredded memory foam pillow is more malleable due to chunks stuffed in it, a solid memory foam pillow shows better rebound. A core pillow has variants available in the form of butterfly-shaped, or dual-sided contoured, gel-infused.
Sleeping Positions: A solid one is better for those who sleep sideways or on their backs while shredded memory foam pillows are suitable for almost all kinds of sleepers especially stomach sleepers.
What Makes A Shredded Memory Foam Pillow The Best Pillow For Sleeping?
A shredded memory foam pillow is desirable from almost every angle. As mentioned above, soft, fresh, and appropriate shreds or chunks are used to stuff in the Sleepsia shredded memory foam pillows which are covered by bamboo pillowcases. Thus, the pillows get their popular name of 'Bamboo Pillows.' Many have admitted that a bamboo pillow is the most comfortable pillow of all times due to the dual benefits of-
The malleability of memory foam shreds.
Breathability and hypoallergenic properties of the bamboo.
What Are The Bamboo Pillow Benefits?
Bamboo pillows, especially prepared by better quality brands such as Sleepsia help the user in every manner. The supreme quality of shredded memory foam filling along with a soft bamboo pillowcase make it the best pillow for sleeping.
Suitable For All: A shredded memory foam bamboo pillow benefits all kinds of users. From adults to teens, from side sleepers to stomach sleepers, and from rolling and flipping sleepers to straight sleepers!
Better Aeration: Sleepsia shredded memory foam pillows are created with foam that promotes aeration. On top of it, the soothing bamboo pillow cover adds to the breathability. The better air circulation and fewer chances of sweating make it the most comfortable pillow.
Stress-Busters: The filling of shreds makes the bamboo pillows super flexible. As a result, the user can let the pillow mold as per their sleeping position. While anxiety or stress, a person twists on the bed and stays uncomfortable. But Sleepsia bamboo pillows let the user doze off to sleep forgetting all the stress. Bamboo products have anyway become popular due to the eco-friendly and natural benefits.
Hypoallergenic: If a pillow is able to protect the users from allergens that hide in the fabric and later disturb the sleep with sneezing, rashes, running nose, or other allergic reactions, then it is the best pillow for sleeping. Fortunately, Sleepsia shredded memory foam bamboo pillows are like this!
Biggest Benefit Of Shredded Memory Foam Pillow!
The major benefit of a shredded memory pillow is its malleability. The foldable or the flexible feature of this sort of the pillow is the highlight.
This type of pillow is more fluffed!
The adjustable loft as in the case of Sleepsia, allows the user to remove or add the foam as per choice.
This type of pillow helps to relax the hollow space between the head and the neck.
So Then Which Is The Best Shredded Memory Foam Pillow Of 2021?
The shredded memory foam pillow which offers better breathability, malleability, hypoallergenic properties, softness, stress-busting, orthopedic support, durability, and satisfaction is undoubtedly the best pillow for sleeping in 2021. Fortunately, Sleepsia Bamboo Pillows have succeeded in winning the hearts of people by providing almost all the benefits.
From The Physical Health Point Of View
The most comfortable pillow should be able to comfort the neck, shoulders, and the back appropriately. After working the entire day, if a shredded memory foam pillow, like Sleepsia is able to support the user's body then it is perfect!
Along with it, one should not forget to exercise everyday.
While sleeping on the memory foam pillows, a user should not spoil the habits. Binge-watching and keeping the neck down for a longer duration can never work!
The best pillow for sleeping will do its work but the best position of sleeping and the best posture for sitting will add on to the benefits.
So, take a break while working and perform neck rotation frequently.
From The Mental Health Point Of View
Pillows have also emerged as the healers! A depressed person tends to cry, smile, laugh, and share sorrows with the pillow more than humans! It is because humans might have emerged selfish lately, in exceptional cases but pillows are still the best friends! A soft and feather feeling memory foam pillow will always help the user to-
Feel fresh and rejuvenated!
Wake up positive!
Forget the stress!
Also, shredded memory foam in king, queen, or standard sizes, in one-pack or two-pack are known to enhance the coziness between the couples. Romantic and bedroom life tends to provide psychological satisfaction.
From The Decor Perspective
A bigger sized shredded memory foam pillow may be the best pillow for sleeping but it is also the best pillow for decor! King sized Sleepsia pillows look fab on sofas, king-beds, and even on lower-beddings. Queen and Standard pillows too look appropriate for styling the bedroom, work area, or even can be used while traveling.
2021 Screaming Health And Happiness For All!
2021 is screaming for health and wellness for all with the 'Best Shredded Memory Foam Pillow Of 2021' which are undoubtedly Sleepsia Pillows! For sure, this year calls for no compromise with the comfort and convenience. Therefore, choosing the best pillow for sleeping and the most comfortable pillow for relaxing is necessary. Shredded memory foam pillows have become widely popular. When bought fresh, can be kept away in some ventilated area to let go of gassing-off odor. These pillows, as made by Sleepsia, come all vacuum packed. Fluffing up of these pillows is easy and a satisfying process. Easily washable and removable pillow covers add to the management. All in all, a great deal!
NEWS:
Bad Cell Phone Habits at Night can Destroy Sleep Quality- Recent Research (May 02, 2021)
The data collected by a recent research in Saudi Arabia has mentioned that bad cell phone habits at night can destroy sleep quality. Most people check their phones at the last second before going to sleep, and put their phones near the bed. The research says, this is a serious problem and can cause insomnia.
---
---