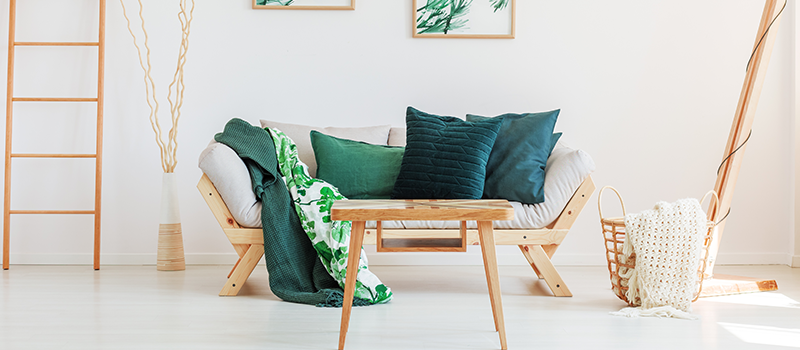 Veronica Roth once said, "Sometimes, the best way to help someone is just to be near them." This applies to humans for sure. But in this hectic world where everyone is busy and is struggling with their issues, it seems impossible for humans to spend time with each other. Not many support each other because deep down, they are themselves struggling with tons of issues. Everyone is lacking time and everyone is missing someone to be with them in this futile world. But, if there can't be anyone around, there can be 'something' around for sure. This 'something' is nothing else but the comfortable bamboo shredded memory foam pillows. Now lets us discuss how to break in your bamboo pillow.
Why not trust your pillows for being able to be by your side? Pillows are a great support during the times when you feel low. Pillows know the best way to help you by being near to you. The days of anxiety and stress are hard. These days can be overcome with the help of comfortable pillows. When you know how to break in your bamboo pillow, you can easily know the hidden secrets to happiness. When you know how to let the bamboo shredded memory foam pillows comfort you, you can easily win over those lonely times.
How Bamboo Pillow Has Become Support?
This pillow is the biggest support these days. What does a lonely person do? After quarreling with the thoughts, what does a person do? Sleep! Mostly he/she either tries too hard to sleep or immediately sleeps. But this sleep is not at all beneficial as it continues along with several negative thoughts in the brain. Moreover, if there is none around to calm you, what will happen? In that case, a bamboo pillow helps. Sleeping on this pillow makes you psychologically stronger. This pillow has become support these days as:
It Calms The User From Within: The user gets freedom from the clutches of the negative thoughts. The natural bamboo pulp created fabric makes the pillow breathable. It lets the user breathe fresh while sleeping. No anxiety signs are seen in the form of sweating or breathlessness. The pillow calms the user from within as it limits the blockage of air. Proper improvement of air circulation freshens up the brain as well.
Bamboo Pillow Removes Irritability: This pillow removes the chances of irritability due to allergies. The allergens that hide in the fabrics attack and irritate the user. It is super easy to break in this pillow for sleep as it is a hypoallergenic pillow. This doesn't let the user fall into the trap of allergic issues. So, no chances of the user to feel an additional burden on the brain.
It Supports The Body: This pillow limits the wear and tear of muscles. It helps in spinal alignment and in rectifying the orthopedic issues. Cervical, spondylitis, migraine, etc. are some of the health hazards that are cured with this. Physical well being clearly means a good mental state of mind. So, this bamboo pillow is supportive of the body and mind.
Break In Your Bamboo Pillow And Relax Like A Free Bird!
This is a bamboo shredded memory foam pillow. It means the pillow has a filling of this specialized foam that is available in chunks. The adjustable pillows allow the washable cover to be removed to take out some foam. The zipper can be opened to insert or remove the desired amount of foam as per the requirement of the body. It is super comfortable and easy to break in the bamboo pillow as it is super soft.
It comes all flat but fluffs up like a grand cloud. A user can feel like a free bird while sleeping on this cloud. To showcase infinity, we usually say, 'The sky is the limit.' Similarly, there isn't any limit to the benefits of this pillow. The shredded memory foam in this pillow lets the pillow mold accordingly. The body submerges in the pillow into a deep and sound sleep. Hence, it becomes easy to break in this pillow. Also, not forgetting,
The pillow holds your head like a baby.
It supports all sorts of sleeping patterns. Be it sideways, on the stomach, or on the back.
The bamboo pillow is available in the sizes of King, Queen, and Standard. So, it becomes easy for the user to make a great choice.
This pillow is a real stress-buster pillow.
Conclusion
This pillow has become a necessity in today's time. Order your bamboo shredded memory foam pillow with the exceptional benefits of bamboo mattress and pillows from www.SleepSia.com. Now that you know how to break in your bamboo pillow, why waste even a single second? Order it fast to break into a peaceful and better sleep that can soothe your mind and body. It is high time you think about your mental and physical well-being by having quality sleep! Do ring us on +1800-862-1084, in case of any queries!
---
---