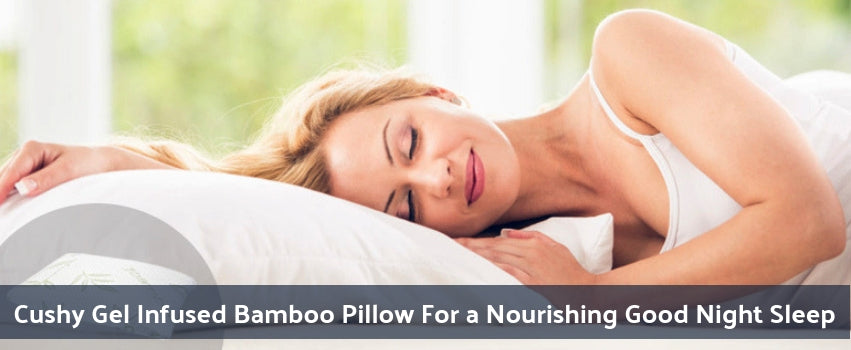 Immerse yourself in a good night sleep you've been longing for. Premium gel infused contour memory foam pillow with natural bamboo outer cover is the latest in luxury sleeping and are the highest rated pillows in the market.

The premium memory foam reacts to the thermal heat of the body and contours itself around the head to place it comfortably and extend proper alignment and support to the vertebrae.

Bamboo Memory foam Pillows have become widely popular amongst sleepers suffering from sleep apnea and are prescribed by chiropractors and orthopedic experts to patients who are struggling with spondylitis and orthopedic problems.

Temperature And Ventilation
These pillows are well-ventilated due to custom construction of the inner foam that maintains the flow of air and prevents it from getting soggy during hot and humid weather. The pillow maintains an ideal balance between the density and breathability. The cooling gel infused in most of the top of the line products further adds to the comfort and freshness of these bamboo pillows.
Hi-Density Memory Foam For Support & Durability
These pillows are made from high quality, high density imported memory foam that retains a "soft" level of firmness your body needs and remains intact in all environments for years to come. The quality imported foam is infused with the Cool Gel for a noticeable cooling effect through the night

Doctor Recommended Ergonomic Design
Temperature sensitive advanced memory foam uses body heat to activate the molding affect so that your head can sink in slightly. This helps to build support around the head, keeps the back properly aligned, and helps reduce tension on the shoulders.

Antimicrobial And Hypoallergenic Design
Our pillows are free from dust, mites, fungus, bacteria, and other allergens that can be found in other pillows. The pillow keeps all kind of allergy away and it's the best remedy for allergy suffers free from extraneous odor.

Natural Breathable Bamboo Cover
Bamboo is a natural fabric distinguished for its strength, lightweight, has a cool texture with moisture absorption properties. The breathable effect and coolness of the bamboo fiber keeps the pillow fresh, soft and cool in all weather and helps the body relax and fall asleep faster.

Bamboo is naturally antimicrobial and repellent to fungus, bacteria, mites, and also keeps the annoying odors away. Sleepers who are prone to allergies can be at peace as bamboo keeps away the disease-causing bacteria during proximity to the mucous membrane while sleeping.

Bamboo fiber is also highly stain resistant so it can counter those weird looking yellow stains that pop up on a pillow over a long period of usage.

Sleepsia Premium Bamboo Memory Foam Pillows For A Cooler Odorless Comfort!

Sleepsia is a pioneering brand in providing sleep aided solutions and brings to you a whole range of ultra-luxury pillows, lumbar, coccyx, neck and shoulder, orthopedic pillows. Our pillows promise a luxurious hotel-like experience from their double-sided infused gel construction.
The self-healing premium Memory Foam used in the pillows "remembers" the curve of your head and takes an adaptive shape and maintains the right balance between support and comfort.

Sleepsia premium bamboo pillow includes all the benefits of the natural bamboo that stays fresh after long usage. The fabric outer zip cover that is washable and easy to maintain.

You will love our pillows and its backed by a 100% guarantee so in case you are not absolutely satisfied, there is a 30-day return guarantee, no questions asked!
Related Articles from Sleepsia Blog
---
---