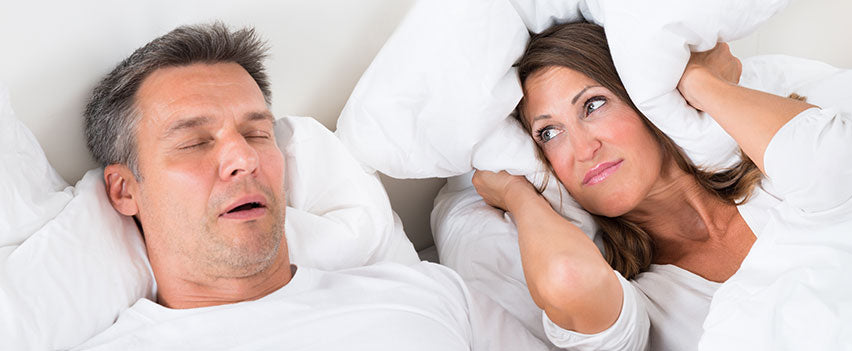 Snoring is the most common health disorder people generally face while sleeping. If you are one of them suffers from uncontrollable snoring then here you will get relevant information. The main cause of this snoring occurs at the tissue of the backside of the throat through the airflow while breathing. It happens due to several reasons. The major cause of this snoring arises when a person sleeps on his back. The best way to deal with snoring is to use high-quality anti-snoring pillows. This article will discuss how bamboo pillows help to stop snoring and the main factors that make bamboo pillow an anti-snoring pillow.
How do Bamboo Pillows help to Stop Snoring?
Bamboo memory foam pillows are one of the doctor's recommended pillows that help to reduce snoring. It contains complete organic, naturally breathable, comfortable, and adjustable foam which enhances its functionality. It offers amazing support with proper airflow. Discover a trustworthy resource to purchase a bamboo pillow with its extra-ordinary standardized fiber.
Rising of Pillow helps Stop Snoring?
When you raise the head of your bed with king size bamboo foam pillow you can easily reduce snoring. These pillows help to prevent snoring when you elevate the head on a pillow it unblocks airways. Thus serious snorers are suggested to purchase adjustable bamboo memory foam pillows to embed and erase the filling to provide perfect support.
How Bamboo Pillows act Anti-Snoring?
Bamboo memory foam acts as an orthopedic for a restful breath while sleeping. It helps in preventing snoring as it adjusts alignment according to the shape of the neck and head and keep airway unblock. This in turn reduces snoring disorders.
Following are the Factors for Bamboo Pillows to Prevent Snoring:
The designs of bamboo pillows are created in such a method that filling is uniformly distributed so that you can comfortably raise your head and make a frequently change sleeping position. These pillows provide great support to throat muscles to decrease snoring disorders.
This type of pillows lets you comfortable sleep on your side which helps in avoiding tongue to block airways.
It is designed with shredded substance and bamboo-based fabric permits ultimate relaxation with great support.
The bamboo-based foam retain you cool entire night
They act as a natural ingredient to prevent snoring because of the absence of chemicals in it
These pillows are completely hypoallergenic, ecofriendly, and highly resistant from dust mint.
The washable and removable bamboo cover is used to maintain hygiene. It helps to adjust the better sleeping position according to your convenience
The high-density foam of the bamboo plant covers organic features and helps in regulating temperature according to your comfort.
Which Type of People need Anti-Snoring Pillows?
Snoring is generally influenced due to the sleeping position of a person. Mostly back sleepers suffer this issue. When a person sleeps on its back the tongue used to slip back which results in blocking the airway. Thus back sleepers are requested to use anti-snoring pillows to get rendering support on the back and head due to its special design.
It has been analyzed that side sleepers have less problem of snoring in comparison to a back sleeper. With anti-snoring pillows, one can easily avoid the un-comfortable snoring problem.
Anti-snoring pillows:
There are many products and pillows available in the market to reduce snoring have been specifically launched. The pillows which contain properties to prevent snoring are known as anti-snoring pillows. You are recommended to select carefully the best anti-snoring pillows.
Anti-snoring pillows are specifically created with snorers in mind. They are designed to improve breathing during sleep. The snoring is caused due to obstructed airway when you are sleeping. These snoring pillows set the perfect alignment towards the head and neck and help to retain the airway open.
Perks of Anti-snoring pillows:
Anti-snoring pillows permit perfect neck and head alignment. These cushions help to keep your airways open when you rest. Thus, it acts as an ideal method to decrease and removing the vibration in the throat that takes place due to the air you breathe while sleeping.
They help to improve sleep and to manage numerous health disorders including neck pain, breathing issues, and snoring. It contains a bamboo-related substance in outer shells which plays a major role in complete protections like reducing snoring, not only helps in better snorer's sleep but they improve their partner sleep as well.
Purchase a bamboo anti-snoring pillow to frequently change your sleeping positions. It is specifically created to address the requirement of every type of sleeper regardless of their sleeping posture. It lets you easily adjust the alignment in your neck and head in such a manner you can prevent airway blocking which in turn results in less snoring problems
Simple & Effective Solution:
 The anti-snoring pillows are recognized as one of the safe solutions against snoring problems. Many other anti-snoring products might contain other side effects.
Bamboo pillows and traditional pillows:
Bamboo pillows act as amazing support. They are super-soft containing anti-bacteria features that protect from bacteria and other types of organisms. It also keeps away the dust mites away. This pillow acts as an anti-snoring remedy that helps a person to keep away allergens. It is ideal for the lungs and asthma patients.  The traditional pillows don't ensure the quality of the feathers used in it. It might affect sleep. They might cause a neck bent and make you uncomfortable.
The other pillows with less standardized material cannot provide you accurate support under the neck and shoulder. It interferes with your sleep which in turns will result in health problems including sinus, muscle growth, tissue problems, and more. These pillows might contain inaccurate alignment; it won't remove the health disorders. You need to select the best pillow to address sleep disorders and snoring problems. To deal with such issues physicians usually recommend Bamboo pillows.
Different types of Anti-snoring pillows:
The Anti-snoring pillows come in different sizes and forms. You can differentiate them with the material used in it. Some of them are given below:
Memory Foam pillows are recognized as anti-snoring pillows with their ability to provide great support on the neck and adapt their nature contours requirements. This helps to decrease the chance of snoring.
They are specifically designed to meet the perfect alignment while sleeping. It contains thick and firm edges to comfortably hold the head in an accurate place and helps to prevent snoring
Bamboo based memory foam pillows:
These pillows are organic and most hygienic pillows provide you with ideal alignment when you sleep. These are best pillows for all types of sleepers; it helps in obstructing the airways by retaining your tongue to slip on the back of the throat.
People suffering from heavy snoring are recommended to experience Bamboo-based pillows that come in Queen, standard and king size pillows. Purchase according to your convenience and provide adequate support to the neck and keep snoring away from you.
Why Bamboo is highly recommended to cure snoring issues?
The effectiveness of a pillow in preventing snoring based upon the standard of the filling materials, bamboo memory foam pillows are wrapped with the finest foam that is more beneficial for snoring prevention. The shredded soft foam is more customized; you can easily adjust the fill according to the symptoms.
How to select the best anti-snoring pillows?
Many anti-snoring pillows are there, to select which one is best for you is a crucial task. You need to analyze your sleeping position whether you are a side sleeper or back sleeper. For this, you can visit your doctor and determine the accurate reason for snoring so that according you can treat yourself. If you snore more, it is mainly due to your sleeping posture. According to sleeping position select the best anti-snoring pillow.
It has been analyzed that memory foam and bamboo pillows are more suitable to deal with a snore.
Following are the main factors that need to consider while selecting an Anti-snoring pillow:
Your sleeping posture
The material used in pillows
Budget
Comfortable
Size
Better support
Need more Advice?
Bad sleeping can cause snoring and other medical issues. If you are suffering from snoring problem then it makes sense to address the issue. This article is enough to get an insight into anti-snoring pillows. The choice of your pillow plays a major role in preventing snoring. Whether you are side or stomach sleeper, bamboo pillow, and memory foam are highly recommended by doctors to eliminate sleep disorders. You can order the Bamboo pillows size that suits your bed. For further assistance you can reach the support team at 1800-862-1084.
Related Articles from Sleepsia Blog
Recent update on Global Anti-Snoring Treatment Market is likely to Scale-up to USD 8.6 Billion by 2028
Fior Markets has published a report on anti-snoring market treatment. It is likely to scale up from USD 4.3 billion in 2020 to USD 8.6 billion by 2028. The compound annual growth rate of 9.07% is predicted for the forecast period 2021-2028.
---
---