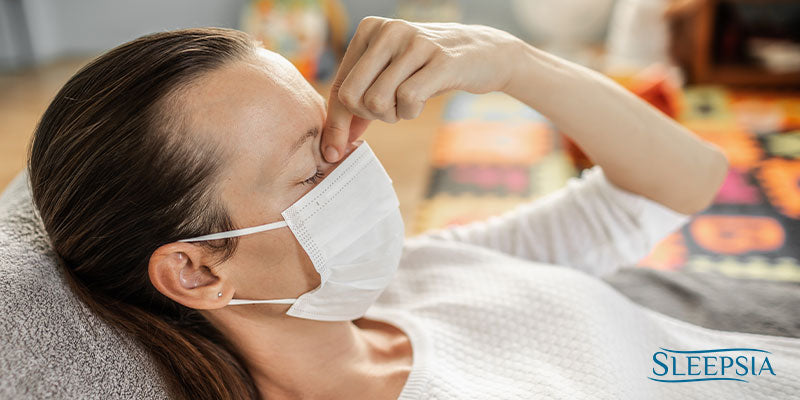 Lockdowns induced by covid-19 have created a host of issues related to mental health and sleep. With increased stress and anxiety of being alone, more people are experiencing symptoms of loneliness and depression.
In this article, we'll look at mental health issues caused by lockdowns from Covid-19.
Mental Health Issues related to the Pandemic
Let's face it, we all fear contracting a deadly virus that has already killed millions of people throughout the world. Further, we may hold the same fear for our loved ones.
All this fear leads to a great amount of stress and anxiety, both of which push people towards depression.
In two different surveys, the number of adults reporting symptoms of anxiety and depressive disorders increased from 1 in 10 in 2019 to 4 in 10 in 2021, an increase of 4 times.
A study by Medical News Today discovered that the rate of depression across the United States has tripled over the course of the pandemic.
Here are some health conditions that people have suffered from in the past year because of the pandemic:
Fear, sadness, anxiety
Loneliness and depression
Inability to concentrate on tasks
Apathy towards hobbies you once found interesting
Aggravated symptoms of chronic pain
Substance abuse
In a survey by Medical News Today, it was revealed that alcohol and cannabis use has increased among people in the united states. Further, 36% of people experienced sleep disorders, 25% felt depressed, hopeless, or down, and 38% felt tired.
How to Stay Sane during the Pandemic?
Staying sane during the pandemic comes down to socializing online and maintaining healthy habits. Here are some things that you can do to survive the pandemic.
Take Care of your Body
Although lying in the bed all day may feel good, it is important for you to take good care of your body. These simple steps will help you in a more healthier lifestyle during the pandemic.
Exercise Regularly
Staying active requires you to workout regularly. You can try at home HIIT workout, or dumbbell workouts. To release stress, you can start a good yoga and meditation routine.
Here are some links that you may find helpful:
When you exercise, your body releases endorphins, which make you feel good.
Consume a Balanced Diet
Although you're staying mostly indoors, your body still requires proper nutrition to function properly. A balanced diet improves not only your physique but also your mental health.
Apart from consuming a balanced diet, you should also consider taking vitamin D supplements. As you may be spending most of your time indoors, your body may experience a deficiency of this vital vitamin, which is responsible for maintaining a healthy ratio of phosphorus and calcium and regulating the immune system.
Follow a Proper Sleep Schedule
A proper sleep schedule enables your circadian system to function properly. It makes it easier for you to fall asleep faster at the same time everyday.
Also, following good sleeping posture reduces strain from your neck and prevents:
Neck stiffness
Lower back pain
Shoulder pain
Get a pillow that maintains proper alignment of head and neck and provides consistent support throughout the night. Here are some pillow recommendations for you:
Shredded memory foam pillow: You can adjust their height and firmness by inserting or removing memory foam from inside.
Memory foam pillow: These contain a solid block of memory foam, so you cannot adjust the height and firmness, but they do mold according to the shape of your head and neck and provide consistent support throughout the night.
Orthopedic cervical pillows: especially designed to alleviate and cure neck pain, these pillows provide additional support to the cervical spine.
Journal your Thoughts and Practice Gratitude
Do you often feel disconnected with yourself and distracted?
If yes, then journaling your thoughts will create a positive impact on your life. By streamlining your thoughts and getting to know your own emotions, you'll be able to make better decisions in life.
Practicing gratitude is another habit that you can include in your mental health toolbox. Everyday, write three things that you feel grateful for. These can be people, your work, or even your hobbies.
Conclusion
Your mental health is yours to protect. Following a regular sleep routine, exercising, consuming a balanced diet, and journaling are some effective ways to combat stress, anxiety, and depression. Take responsibility and inculcate habits in yourself that will keep you sane throughout this pandemic.
NEWS:
U.S. Schools Turn Focus to Mental Health of Students in Post COVID Era (May 9, 2021)
A survey by Reuters earlier this year serving more than 2.2 million students found that a majority reported multiple indicators of increased mental health stresses during the lockdown period induced by COVID-19. Those concerns have led to new initiatives aimed at helping schools navigate the pandemic's aftermath. The federal COVID-19 relief package included $122 billion for K-12 schools.
---
---