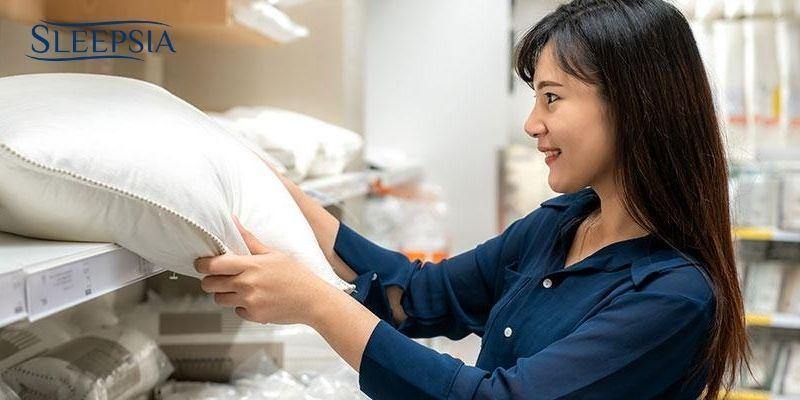 Pillows are one such blessing in our lives which make our days and nights easy. But it is really sad that people do not put much attention into buying these. There are hundreds of pillows available in the market but not all are health-friendly! Only Shredded Memory Foam Pillows possess the ultimate strength of supporting its user health-wise and comfort-wise. We need to realize that pillows are something we can't ignore and we shouldn't either. Dragging the regular pillows and sleeping on those makes no sense. It is because those aren't beneficial. We should always choose a pillow that generates benefits and makes life much easier. Therefore, choosing the best pillow can be a tedious task. But it isn't that difficult at all. Knowing the advantageous effects of the pillows from Sleepsia, the choice has become clear and easy! Let us know how to choose the best pillow for you!
Best Memory Foam Pillows
Shredded Memory Foam Pillows: Their Making!
These are prepared with maximum hygienic conditions. Highly durable memory foam in the shredded form is chosen. The fabric i.e Bamboo cover is of supreme quality. The procedure of making is followed with great care, with immense hard work and with tons of dedication by the team. It is not about manufacturing some random pillows but it is about giving people the best versions of Memory Foam Pillows which shall aid people and their health. It comes flat and attains its shape when ready to use. It takes the shape of the part of the body resting on it.
Why To Choose  Bamboo Pillows?
These are referred to with this name because of the covers with which these come. The cover of these Shredded Memory Foam Pillows is made up of bamboo which makes it extremely breathable. The soft-touch avoids all sorts of irritation, sweat conditions, or allergies. It is because the cover is created out of the fabric which is knit in a spacious technique. It doesn't trap the germs traveling in the air. The user thus remains free from all sorts of bacteria, germs, bugs, or other minute creatures. So, these covers retain strength to let the user feel calm as well as maintain hygiene. Undoubtedly, these covers add to the power of the pillow. Therefore, Bamboo Pillows can be an amazing choice!
What are the Benefits of Shredded Memory Foam Pillows?
The benefits to the users are endless! Let us have a look at the advantages bestowed upon by these pillows!
Spine Stays Fine: It helps in spinal alignment. The back of the user remains free from pressure and witnesses a comfortable platform.
Doesn't Let The Mind To Grind: Well, these pillows provide a super peaceful experience. The user sleeps and rests with no stress and no tensions. It thus helps the user to stop its mind's unnecessary grinding.
Proves Health Is Wealth: It absolutely proves it right. It asks the migraines, insomnia, allergies, cervical, and other body aches to leave forever. This makes the Bamboo Pillows beloved!
Sizes of the Shredded Memory Foam Pillows!           
These come in three sizes of King Size, Queen Size, and Standard Size. Their 5" loft is indeed a comfortable luxury! It holds up the head softly and gives immense comfort. Choosing a size is within the hands of the user. All are perfect sizes! It is all about the user's preferences and sizes of the bed where pillows are to be kept.
Conclusion
Our final words say you to gear up to avail these marvelous pillows. It is because no other pillow promises health and relief altogether. These pillows prove how these are indeed the best ones to be used. People run on foot every day working relentlessly. They deserve a sound sleep and a solution to their restlessness. These Bamboo Pillows are the ones! So, now that you know how to choose the best pillow for you, no stone shall be left unturned! To order your own Shredded Memory Foam Pillows, reach out to us on www.sleepsia.com and for your queries, contact us on 1800-862-1084. We are always there to support you! Wish you all a healthy and a comfortable life!
---
---