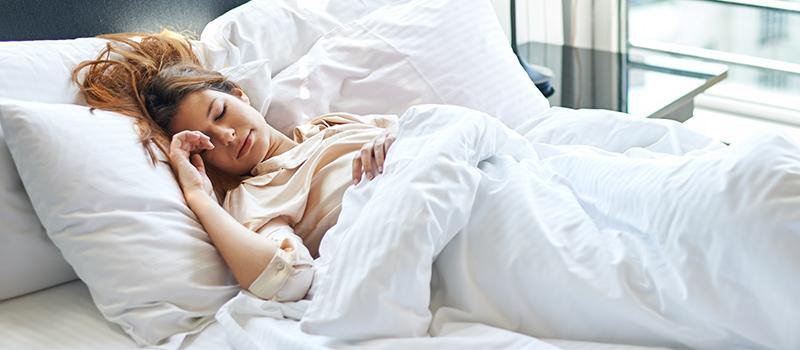 A night of good and healthy sleep plays an important role in life. If you don't have a good sleep it surely affects your health. However, some people sleep for more than the advised time which hampers health gradually. In the world, there are many people who are facing the problem of not enough sleep but do you know excessive sleep is also a problem. If a person sleeps too much it might be connected to mental and physical health. Sleeping too much gives you many health effects and health risks which are as mentioned below.
Effects of Oversleeping
Weight Gain

- Oversleeping helps you to gain weight. If you are also in the category of oversleeping people then you need to aware of it. A study mentioned below shows that how much oversleep effects; In a 6 years period, those who took sleep for 10+ hours are having more chances of getting fat instead of people who took sleep for 7 to 8 hours.

Headaches

- Sleeping too much can lead to trigger migraines and headaches. Many people complain about headaches which generally happens after a long sleep. Regular sleeping for a long time may cause a regular headache after sleeping.

Back Pain - Sleeping too long creates back pain. Lying down for a long period of time in an

impractical

position gives you back pain. Back pain affects your daily routine due to which you feel tired.
Higher Heart Disease Attack

- As per source to one information from the National Health and Nutritional Examination survey it is said that both long and short sleep increase the higher risk or Coronary heart disease.

Premature aging

- Regular oversleeping actually cause your brain to age faster. Spending too much time for sleep leads to brain age of 2 years which leads to poor concentration, memory, and ability effects.

Depression

- While sleeping too long and getting disturbed can give you depression. Oversleeping shows a bad impact on recovery hence maintaining a healthy sleeping time period is recommended to everyone.

Decrease fertility

- Release of hormones for the reproductive system is also not untouched from that. Fertility is heavily infected by our sleeping and waking schedule.
Sleeping more than advises time also lead to many health risks. You might be influenced by heart disease, lower back pain, headache, weight gain, Circadian Rhythm Disorder, etc. You can follow simple steps to overcome excessive sleeping.
Tips to Prevent Excess Sleep
You need to get enough sleep 7 to 9 hrs per day at night.

Make a scheduled time of sleeping and waking up.

At the weekends don't sleep for too long as it makes your habit to sleep on even weekdays.

Avoid excessive nap after 4 PM.

You also need to take care of taking excessive caffeine as it hampers your sleeping time.

Limit your alcohol to get improved sleep quality. Drinking near about sleeping time impacts your sleep.

For the people who are sensitive to lights, it is advised to do not use electronic devices near bedtime.
You can refer to the sleep timetable mentioned below.
| | |
| --- | --- |
| Elderly | 7 – 8 Hours |
| Adults | 7- 9 Hours |
| Young adults | 7-9 Hours |
| Teenagers | 8-10 Hours |
| School-age Kids | 9-11 Hours |
| Preschoolers | 10-13 Hours |
| Toddlers | 11-14 Hours |
| Infants | 12-15 Hours |
| Newborns | 14-17 Hours |
Winding-Up
You can make your sleep more comfortable with bamboo pillows.SleepSia gives you quality bamboo pillow with variety. Selecting Bamboo pillows leads you to good health with a fresh and active mind every day. To contact SleepSia team simply visit our webpage or dial +1800-862-1084.
SleepSia team is always ready to assist you with anything related to bamboo pillows. Pick your favorite pillow from our vast range and of high-quality bamboo pillows and start a healthy sleep from today only.
---
---