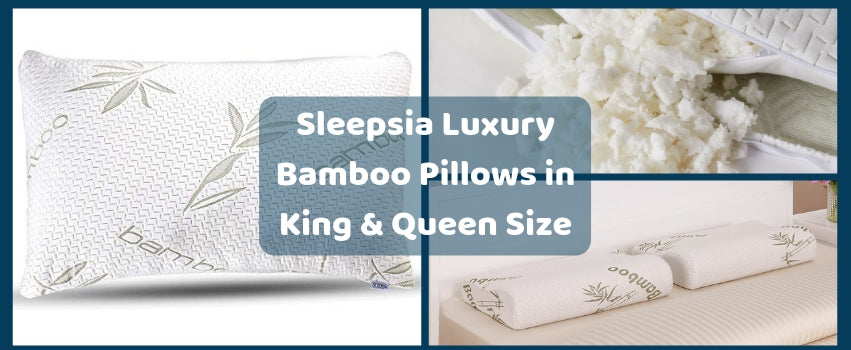 Majority of people face the perils of modern life and undergo sleep difficulties and non-restorative sleep pattern. Disturbed sleep pattern can cause several emotional, psychological and physiological disorders and people suffering from bad sleep to miss out on muscle relaxation and healing that normally occur during sleep is missing in the affected patients.

How Sleepsia Bamboo Pillows can improve your daily life?

Whenever a person follows a wrong sleeping position, the neck tends to curve either upwards, down or sideways falling out of alignment with the spinal cord. This caused the sensitive nerves in the spinal column to get compressed and in response to compressed nerves the muscles in the surrounding area collectively swell up in an attempt to support the infected area. If it gets prolonged and further exacerbates, it can lead to sciatica, migraines, long headaches and numbness or pain in the back and leg.

Therefore it is essential to support the neck area all the way up to the lower back for proper spinal alignment and restorative sleep.

Best way to keep our spine aligned with the head and kept it straight while sleeping is to get good support for your back. Memory foam pillows show impressive results in such cases.

Memory Foam is the latest innovation in sleep aided products

High-quality memory foam pillows are made of special heat reactive foam that reposes itself by reacting to the body heat and pressure of the head to form a contoured outline around the head and neck. This creates a slightly indented space for the head to rest comfortably and provides the right support needed for the neck, shoulder, and back while you sleep. The special grade foam maintains the right amount of hardness with a gentle soft cushy feel. It takes time to adapt to this texture but once done, it provides the ultimate support your body needs.

Memory foam pillows are especially recommended by chiropractors and orthopedic experts for neck pain and worn out TMJ problems.
These pillows are suitable for all types of sleepers be it a side sleeper, back or a stomach sleeper, or a combination sleeper.

About Sleepsia

Sleepsia pillows are made from the best-quality memory foam which provides the ultimate support to the neck and back so that you wake up all energized and refreshed.

IMMERSE YOURSELF IN PEACEFUL SLEEP WITH SLEEPSIA RANGE OF STANDARD, QUEEN AND KING SIZE PILLOWS

Sleepsia king size bamboo pillow flaunts a 5" loft designed for an ultimate soft cushy sleep. These king size bamboo pillows are made from world-class premium memory foam that contours around your head and upper shoulder to form a slight indentation to keep in line with the natural body alignment. Our pillows also come in standard size and queen size bamboo pillows and all come with the same quality. They are built to provide the ultimate support for your neck, shoulder, and upper back muscles and keep the spine and lower back properly aligned all throughout the night so you wake up rejuvenated and completely relaxed.

5" LOFT FOR MAXIMIZED COMFORT

Our King size bamboo pillow comes in a dimension of 24"X 16", with a 5" loft with an extra layer of shredded white foam outline. Just unzip the pillow to adjust the level of shredded memory foam to increase or decrease the size and bulk as per your liking. We refrain from using cheap recycled foam bits and use only precision cut white foam in our Sleepsia pillows that provide an ultimate relaxing experience.

CertiPUR-US CERTIFIED MEMORY FOAM PILLOWS

The best in class memory foam is a perfect mix of the right amount of soft firmness to provide the support your back needs and the comfy feel your body wants. Sleepsia bamboo cooling therapeutic pillow offers better air circulation than the rest of the pillows. Our pillows are known for improved air circulation and have excellent moisture-wicking properties. The outer multi-layered removable bamboo cover is hypoallergenic and has a micro-pore construction to provide maximum breathability and aids a cool night sleep. Besides, the natural bamboo fabric is resistant to mold, bacteria, and dust mites.
| | | |
| --- | --- | --- |
| Sizes | Dimension | Weight |
| Sleepsia Queen Size Bamboo Pillow | 13 x 9 x 5 inches | 2.5 pounds |
| Sleepsia Standard Size Bamboo Pillow | 17.2 x 6.4 x 6.4 inches | 3.65 pounds |
| Sleepsia King Size Bamboo Pillow | 18 x 8.2 x 7.4 inches | 5.45 pounds |
---
---