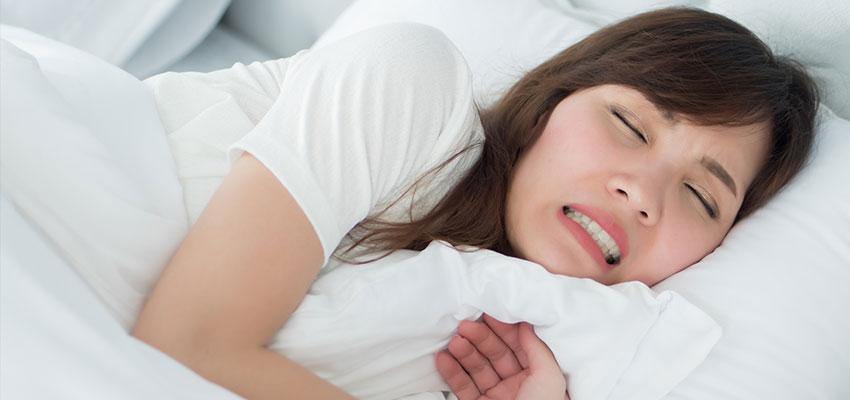 Irritated with the unpleasant sound of teeth grinding of your partner or your kid? Get up, pack this irritation in a packet, and throw it away in the bin! It is not the time to get irritated and scream over this issue. It is time to rather think of eliminating this problem of teeth grinding from the house. It is rather the time to fight with this problem for your loved ones. Let us not take it as a habit or just a part of the sleeping routine. Let us rather consider it important to be acted upon. This problem is also known as Bruxism. This issue of teeth grinding maybe because of health and psychological factors.
However, a piece of good news is that choice of pillows and a particular sleeping pattern help in the cure of Bruxism. Another big name 'Temporomandibular joint (TMJ) syndrome' is also a cause of teeth grinding. This is developed due to pain and ache in the jaw muscles and joints. Don't panic! Thankfully highly beneficial pillows exist in this world to extend a helping hand. Let us know how and why bamboo pillow help in teeth grinding?
Bamboo Pillow Protecting The Teeth From Bruxism!
This problem of teeth grinding is one such evil that needs to be targeted as soon as possible. Just the way we say, 'Nip the evil in the bud', we need to focus on its control. This severe issue results in:
Sore Jaw
Pain in the Jaw
Extreme wear and tear of the teeth
Headache
Irritability
Teeth loss or tender teeth and jaw
Bamboo Pillow can emerge as a superpower in its cure because it helps to minimize the risk of this health hazard. When a person sleeps on a harsh platform, and the neck undergoes a severe pressure, the issue of teeth grinding is likely to pop up. Along with it, if the person sleeps on the stomach by putting pressure on the face or even sideways, the chances of teeth grinding increase. Experts suggest that issues like Bruxism can be lowered down with the usage of a good pillow such as a bamboo pillow. It is because:
It Provides Relief To The Neck, Shoulder, And Head: This pillow is made up of shredded memory foam that molds as per the neck, shoulder, and head. It comforts the organs like a baby. Hence, no pressure is felt by the face or the jaw that can lead to the issue of teeth grinding. The shredded memory foam is known to heal its users from all sorts of health hazards.
It Is Highly Airy: This pillow is made from the natural bamboo pulp that undergoes magic and later comes in front of us in the form of a light and breathable bamboo fabric. It is then used to make a highly airy bamboo cover. Mostly, teeth grinding can also be a sign emerging due to Sleep Apnea. This is a horrible breathing issue. Due to blockage in the air passage, sudden breathing and sudden stop of breathing can be witnessed during Sleep Apnea. This too can result in teeth grinding. Hence, sleeping on an airy bamboo pillow helps to minimize the sweating and provide freshness. It controls the air circulation too.
It Is A Stress-Free Pillow: This pillow lets the user fall into deep sleep forgetting all the tensions. Not to forget, anxiety and other psychological reasons can also be a cause of teeth grinding. In that case, this pillow works wonders to let the stress fade away.
Bamboo Pillow Can Fight Other Reasons Of Teeth Grinding Too!
Teeth grinding is not only Bruxism. As said above, Temporomandibular Joint (TMJ) Syndrome is also a cause of bruxism. Be wise and choose the smart bamboo pillows during such shaky situations. Of course, do not forget to seek your dentist. It is because teeth are the pearls of our bodies. And these should shine always! Also, in the case of kids, certain worms in the stomach are a reason for the bruxism. So, be careful and look after this usual but not so usual health hazard of teeth grinding. Along with opting for a bamboo pillow for sleeping, one should also-
Stay hydrated and drink fresh water.
Never compromise with a balanced diet.
Limit the usage of alcohol and caffeine.
Give rest to the jaw by not opting for chewing gums.
Be aware of the teeth grinding on their own and make up the mind strong to stop doing it.
Consult the dentist. It is the most important.
Try to sleep on the back and not sideways and on the tummy as it affects the jaw.
Conclusion
Teeth grinding is a major issue that needs immediate attention. Now that we know how and why bamboo pillow help in teeth grinding, one must not waste a single second. Go to www.SleepSia.com and order the Sleepsia shredded memory foam bamboo pillow immediately. One can also contact on +1800-862-1084 to know more about it. Team Sleepsia is available to sort all the issues! Wishing great health, and a great sleep to all of you!
---
---