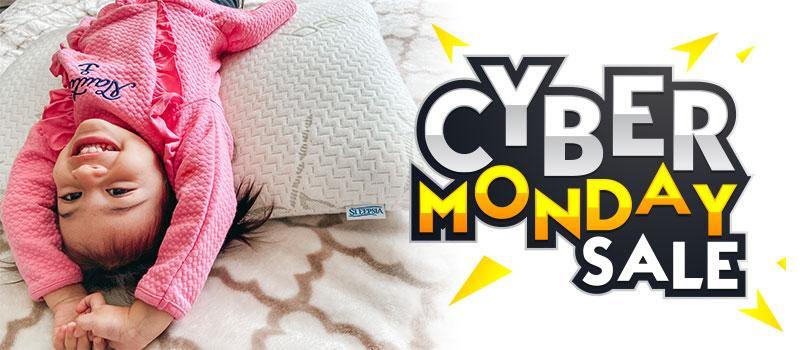 Cyber Monday 2020 is here and Bamboo Pillows are all set to slip in your houses! Grab up to 20% discount on SleepSia Bamboo Pillows and avail the best of sleeping experience.'Cyber Monday 2020, Deals & Sales on Bamboo Pillow' is something you can't miss. Tons of offers might come and go. But what 'SleepSia' has got for you is really big and grand! Enjoy the unlimited number of benefits @ affordable prices.
Bamboo Pillows + Cyber Monday 2020 = Unlimited Benefits!
Bamboo Pillows of SleepSia are the best. These pillows are suitable for every age group and every sleeping position.
Ventilation: These pillows promote ventilation. An increase in the air circulation is helped by these Bamboo Pillows. The soft and breathable bamboo cover and pillow touch makes it possible for the users to breathe in and breathe out, freshly!
Hypoallergenic

: These pillows are hypoallergenic. These are anti-dust mites and allergens resistant. The pillows are worth buying! Especially during Cyber Monday 2020! The best deal and the best sale!

Healthy

: Healthy pillows that not only protect you from allergic reactions like sneezing, fever, cough, red eyes, etc. but also protect you from cervical, sleep apnea, spondylitis, etc.

Psychological Beneficial

: There is a great psychological benefit of these Bamboo Pillows. These pillows let you sleep deep without thinking much about the stressful events of the day.
Now imagine 'Cyber Monday 2020, Deals & Sales on Bamboo Pillow' is such a wonderful opportunity for you to let your house rock with SleepSia Bamboo Pillows.
Features Of Bamboo Pillow On This Cyber Monday!!
These pillows are of three sizes. King, Queen, and Standard.

These pillows are hypoallergenic.

SleepSia Bamboo Pillows are available as adjustable pillows too with an adjustable loft of 5".

These have the filling of the supreme quality shredded memory foam.

These have removable and washable covers.

These are Hygienic Pillows.

Having an Ergonomic design is an added advantage.

These Mold as per the body.

Perfect pillows for neck and spinal alignment.

Amazing for psychological wellness.

These are great for sound sleep.

These are required to shun down insomnia.

Bamboo Pillows for perfect mental and psychological health.
Imagine the Scene of Sand Slipping Away! Imagine the Cyber Monday 2020 Slipping Away!
Forget everything and just imagine 'Cyber Monday 2020, Deals & Sales on Bamboo Pillow' running away. It might be the worst nightmare ever. It will be intolerable, unimaginable, and unforgettable! So, before these heavy words happen to kill your mind and before you get stressed, just don't let this golden opportunity slip away.
Getting SleepSia Bamboo Pillows @ a great price range is fantastic. Moreover, it is great because SleepSia knows how life has been. This year did not bring much happiness. It was unusual and rare. It also affected the sleep cycles of many. So, SleepSia is here to present you all the gift of sleep! The precious gift of soulful and sound sleep! And that too on the greatest occasion of Cyber Monday. The deal is golden and worth taking!
Conclusion
Do not think that things fall into the place on their own. Some efforts are definitely required and recommended. So, 'Cyber Monday 2020 Deals & Sales on Bamboo Pillow' are here to let you all put in some efforts. However, the efforts are gonna be sweet and the result is going to be super sweet. Just go to the www.SleepSia.com and order SleepSia Pillows @ 20% discount (MAX.*) on the occasion of Cyber Monday 2020! Also, do not forget to call us on +1800-862-1084 to know the answers to your questions. Team SleepSia is ready to help.
Remember, the
offer lasts till Midnight Cyber Monday
. So, hurry up!
---
---