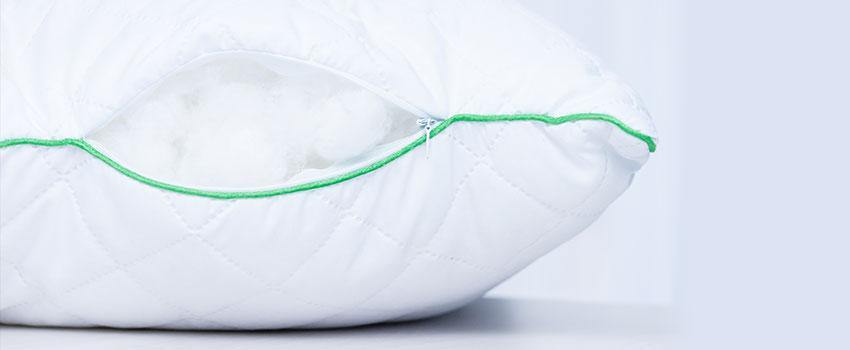 It does not matter whether you are side, back, or belly sleepers you can easily prevent certain health problems by selecting a quality filling pillow. Before purchasing a pillow for your bedroom verifying its stuffing substance plays a major role. It must be appropriate to your sleeping positions i.e. firm, supportive, and soft. The pillow filling varies with the brand to brand. This article will provide you relevant information on what filling is best for pillows as there are several varieties of pillows with different stuffing substances are available.
Choose the suitable pillow according to your posture preferences and get rid of upper body pains that usually occur due to low-standard foam used in the pillow. You spend most of the time with your pillow so it plays a prime role to keep you fit and healthy. If your pillow is comfortable you can get a restful sleep tonight and refresh your mind for the next morning. The quality of pillows depends upon the material imposed on it. Sometimes the foam used in it does not give proper support as required by the state of the spine, neck, and other parts of the body which in turn results in body pain. Not every pillow filling fits everyone you need to select the perfect pillow fillings suitable to your health and position. There are several types of pillow fillings available on the market; it can seem difficult to choose which stuffing is best for you. Here we have described some of them along with their effective features. Explore all of them and select the best one according to your body specifications and needs. Choosing the perfect pillow will assist you to mitigate the back and neck pain.
Types of Bed Pillow Filling
Down Pillow:
These pillows are lightweight and act as an ideal choice while traveling. These pillows can constantly regulate temperature, conserve body heat, and retain it cool during the summer season. Despite this, they can perfectly hold the shape and help you to give great support in all sleeping positions. Down pillows might start sagging after some time and need more effort to clean. This pillow is not good for side sleepers and allergy sufferers, and a little bit expensive.
Features:
Easy to shape
Long-lasting
Soft and more luxurious
Best for a person independent of a neck pain
Durable but need more care
Moldable
Latex Fillings:
Latex foam is one of the most comfortable fillings. It acts as excellent support and provides freedom of rolling during sleep. This foam can get an end of pressure point issues on hips and shoulders. It is fully organic and prevents allergies. Versatility, luxury, and healthy features are the factors that let you choose these fillings for your loved one. This pillow comes in the list of the expensive pillows. If you are not concerned about pricing then go for latex filling for better ventilates air while sleeping.
Features:
Firmness
Great support
Anti-allergic
Resistant to dust miles
Durable
Easy to clean
Cotton Fillings:
It is the safest filling used in pillows independent of toxic materials; complete odor-free. This provides moderate-level comfortability. These pillows can be suitable for every type of sleeper; you can even add or remove cotton filling according to requirement. It is less moldable, and doesn't retain the shape of an object.
Features:
No animal products are used in cotton fillings
Biodegradable
Cooler
Micro-bead Fillings:
These filings are named as uniform polymer particles that look identical to white beads. These fillings promote airflow and are malleable, you can comfortably sleep at night with the breathable feature. It has less firmness which leads them to flatten with time.
Features:
It provides excellent support to the shoulder, head, and neck
It is appropriate to back sleepers.
Feather Fillings:
This type of fillings is linked with down filling with less expensive. With time, these feather pillows start becoming less comfortable and flat. Sometimes you might get an unpleasant odor because of the complexity of cleaning it. This pillow is a great choice for the side & back sleepers.
Features:
Polyester Fiber Filling:
It is one of the widely found options on the market with its lightweight nature. This pillow is less breathable but simple to clean. With some months of regular use, the pillow might become clumpy and flat. This type of filling is used when a person is searching for a cost-effective choice.
Features
The ideal choice if a person searches for a short lifespan pillow, however, used for traveling purposes.
Memory Foam Fillings:
Nowadays, it is one of the most popular foam favorites of millions of users to prevent commonly found health issues like Snoring, Asthma, Depression, Allergy, Neck and Shoulder pain, Migraines, and more. This foam is capable of a permanent way out of all such issues with its high quality viscose.
Memory foam bamboo pillow is eco-friendly and acts as the best absorbent to let you breathe easily. The following are some effective characteristics of memory foam which compel people to use it.
Characteristics of Memory Foam:
Memory foam contains polyurethane and other extra chemicals that make it low-resilience. It can contour the shape of an object and provides a perfect alignment required by every sleeper
It is fully organic and more breathable due to its top-grade fibers
Anti-bacterial and natural temperature controlling foam
Highly recommended for back sleepers to prevent from neck & shoulder
It overcomes fluffing issues that usually occur in other foams
A memory foam is perfect for every type of sleepers does not matter whether they side sleepers, sweat a lot, or with sensitive skins.
It has great viscosity & density
More smooth and durable
What is best for problems like Pains, Sleeping postures, and Sound Sleep?
If you are facing issues like sound sleep, pains, neck stiffness, search the foam which covers such health-related factors. Memory foam filling is an effective solution to prevent all these pain and provide you more comfort and healthy sleep.
What filling is best for pillows?
The memory foam is the most widely used fillings across the US with its most remarkable feature of providing relief to pressure spot pains, upper body pains, allergy, sound sleep, sleeping postures, neck stiffness, migraines, and more. This filling provides a comforting surface to make un-disturbed sleep tonight.
Explore more?
That's a lot of guidance related to pillow fillings available in the market. Hopefully, the above information enables you to make an informed selection for your next shopping. As we know perfect standardized filling and right size pillows play a major role in preventing health disorders. Each filling has its benefits and specification however, memory foam pillows are highly recommended by the doctors. Choose the relevant size according to your sleeping position and place an order through the website www.sleepsia.com. To know further recommendation on what is best suitable for you to reach the team at 1800-862-1084.
---
---