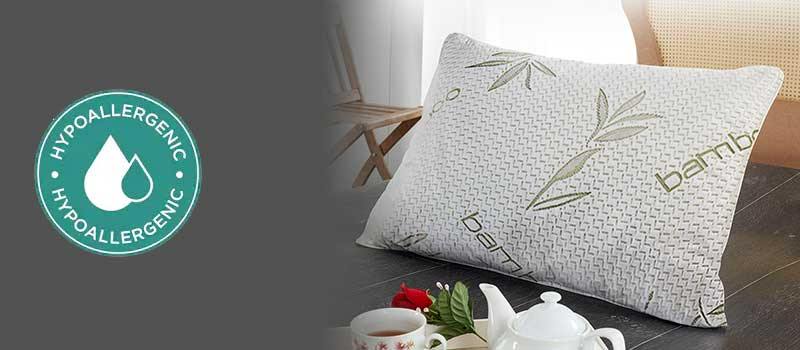 Atopic Dermatitis or Eczema isn't easy to tackle. It creates horrible situations for the ones suffering from it, especially kids. This condition can be referred to as 'inflammation of the skin'. Above all, certain items like dry fruits, nuts, dairy items, excessive heat or smoke, etc. can worsen the problems.
To cure this, one needs to have exposure to soft and hypoallergenic sleeping essentials. It is because pillows and mattresses trap the dust mites that create havoc in eczema. Bamboo is considered as the best for this problem. 'Hypoallergenic Bamboo For Eczema' actually provides relief. Let us know more about it.
What Is Eczema And How Bamboo Helps?
This is a horrible skin disease that is extremely troublesome for adults as well as kids. Kids, however, find it more difficult to tackle. Many kids start facing more and more itching and redness while sleeping. Their skin starts facing the 'inflammation' because of the dust mites or the allergens trapped in the pillow or the mattress. The allergens find a home in such pillows and mattresses that aren't hypoallergenic. The symptoms of Eczema are:
Rashes on elbows and arms.
Rashes or red areas on cheeks and scalp.
Fever and Redness in eyes, etc.
Bamboo helps during this sensitive situation. The bamboo pillows are natural and also bamboo helps soothe the skin from within. The fibers obtained from the natural hypoallergenic bamboo pulp are processed into a brilliant bamboo fabric that is used in the making of hygienic and washable bamboo covers. This makes the pillow super breathable and airy. Chances of users feeling allergic symptoms like:
Irritability
Running Nose
Cough
Sore Throat
And Eczema symptoms are cured.
So, 'Hypoallergenic Bamboo For Eczema' is a great option to choose to live a healthy life.
What Features Of Bamboo Pillows Help In Eczema?
These pillows are stupendous pillows that not only promise a peaceful sleep but a healthy life too. To stay happy and healthy, people are today opting for these pillows.
Increase The Air Circulation: These pillows enhance the breathability that lets the users stay fresh. Especially the ones suffering from Eczema. These pillows soothe the user from within. Sweating in eczema might create more itching. These pillows limit the chances of sweating.
Available In Three Sizes: These pillows are available in three sizes of King Pillows, Queen Pillows, and Standard Pillows. Appropriate for all the users, whether adults or kids, these pillows provide benefits to all. Kids who are suffering from eczema can avail extended help from these pillows available in a suitable size for them.
Bamboo Pillows Apt For All Sleeping Patterns: Many have the habit to sleep on the back, many sleep on the stomach, and many sleep sideways. These pillows are suitable for all sorts of sleepers and all sorts of sleeping patterns.
Power Of Shredded Memory Foam: The supreme chunked memory foam lets the pillows mold as per body. No stiffness, no muscular pains, no ortho issues are felt due to this filling.
These pillows are indeed amazing in terms of providing relief from allergies as discussed above. Just imagine your present pillows doing so! If they aren't then it is the time to replace those. Allergies especially eczema can't be taken lightly. The skin that feels burnt should not be burnt more. The Hypoallergenic Bamboo Pillows also lessen the impact of anxiety and stress which is of the utmost importance for the ones suffering from eczema.
Final Words
The final Words suggest you all to take care of this skin disease. It should not be taken for granted. For kids, it is difficult to understand. They need not only physical warmth and support from their loved ones and parents but also some psychological support. Every little and every major thing can disturb them. So, ensure a sound, peaceful, and good-quality sleep for them. 'Hypoallergenic Bamboo For Eczema' is the key to better situations. To buy the highly advantageous and best hypoallergenic bamboo pillows, go to www.SleepSia.com, and call us on +1800-862-1084.
---
---