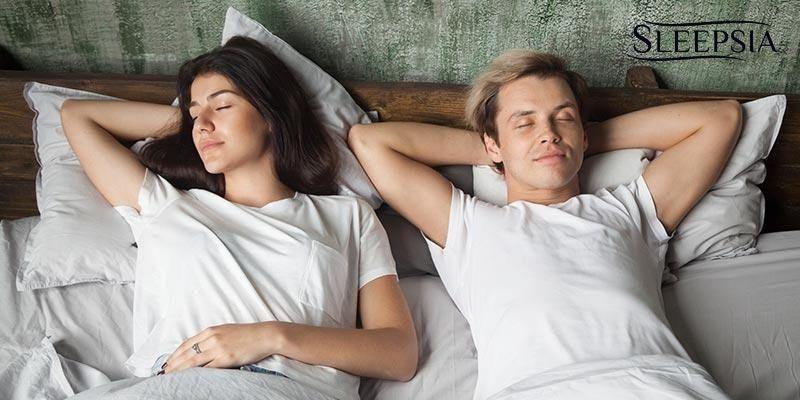 Men and women have different habits almost in every arena. In fact, their sleeping habits also vary. However, exceptions exist everywhere. Women and men go along, walk with each other in this world, cross paths, achieve goals, and do their set of tasks individually also and together also. It is interesting to know that men and women have various interests, various hobbies, and various responsibilities. But it is a fact that both of them are linked to each other and are incomplete without each other. If we talk about sleeping patterns, they are different too. 'Sleeping Habits Of Men V/S Women' is an interesting topic to explore.
Best Memory Foam Pillows
But before knowing it, it is even interesting to know that Bamboo Pillows are the only common thing that is appropriate for both. These pillows are super comfortable and are loved by women and men as well. Undoubtedly, sleep is incomplete without these pillows, for men and women. So, in the entire sea of differences, the only similarity resides with these pillows. The best is reflected by Sleepsia Bamboo Pillows that are made for everyone and all age groups. Let us explore more to know about the different sleeping habits and how these pillows play a major role in the sleeping routine of men and women.
How Do Men And Women Sleep?
Usually, women tend to sleep thinking about all the stressful events and all the responsibilities they have for the upcoming day. Men tend to come home after a hectic day and just sleep, to begin with, another day tomorrow. However, exceptions do exist. Men having depression due to financial issues and relationship issues also find difficulty in sleeping. Well, in any situation, Sleepsia Bamboo Pillows create wonders. These are the stress-busters! These natural, organic, and cooling pillows let the women and men relax completely, forgetting all the negative thoughts. Let us discuss the sleeping habits ahead.
Sharing Bedroom: Women usually let pets and kids enter the sleeping arena. On the opposite, men don't approve of it. It is the biggest difference in the sleeping patterns of men and women.
Waking Up Exhausted: It is usually said men wake up more fresh and rejuvenated than that women. Since women are more likely to fall in the clutches of stressful thoughts before sleep, they wake up exhausted the next morning.
Obvious Differences: The sleep patterns are different because of the changes in the body, mind, and hormonal structure of women and men. During puberty or pregnancy, women undergo different sleep patterns because of certain changes. Men can slip away from this situation. But, with age, men can also suffer from insomnia.
Various Sleep Cycles: It is also said that women are known to spend more time in deep sleep than that in the initial stage of sleep. Men and women have various sleeping cycles.
Internal Clock: The body's internal clock or cardiac rhythm regulates our sleep and signals us about the right time to sleep. Usually, women have shorter internal clocks than men. As a result, they tend to get up early and sleep early. They have an earlier cardiac rhythm.
In the war of 'Sleeping Habits Of Men V/S Women', none should win and none should lose. There are some bad sleeping habits also. Both have a different set of sleeping patterns and both need to work hard individually to gain peaceable sleep in the present harsh world.
How Bamboo Pillows Help Women And Men To Sleep?
Apart from all the differences, women and men may have one common thing. It is nothing else than Sleepsia Bamboo Pillows! These pillows go to the extreme level and provide comfort and health to the users.
Breathe Fresh: These pillows enhance air circulation and keep the users away from sweat.
Keep Cool: The natural and cooling pillows keep the users away from suffocation.
Provide Comfort: These pillows are super comfortable and convenient for men and women. If it's a cricket or football match on TV, grab these pillows and keep supporting your favorite team. Jump in excitement and cheer with your backs resting on these pillows.
Keep Us Healthy: The Sleepsia Bamboo Pillows having shredded memory foam filling are healing pillows. These are known to keep the users away from spondylitis, cervical, insomnia, sleep apnea, etc.
Perfect For All Sleeping Patterns: These pillows support men and women both in their sleeping styles. Sleep on the tummy, or at the back, or sideways! It supports all the sleeping styles.
Can Women And Men Have Better Sleep Habits?
Women and men can have better sleep habits for sure. The hectic life, responsibilities, and emotional ups and downs have affected sleep patterns in today's life. To have better sleep, it is important to have better sleep habits such as:
Sleep On Bamboo Pillows: First of all, sleep on these pillows that help to set right all the sleeping problems.
Drinking a good amount of water: Water seems to be the best remedy!
Eating healthy: It is advised to eat light before sleeping. This will help the stomach not face bloating or hyperacidity while sleeping.
Having a balanced diet: This will push in required nutrients for sleep.
Doing yoga or workout: This will build up a strong physique and mind.
Following meditation: This will help calm down the mind and keep the people away from insomnia.
Wearing light clothes: Always wear light and loose clothes before sleeping to never feel suffocated.
Listening To Music: It is advised to listen to good music before sleeping. This will soothe the mind and the body.
Our final words say you all to gear up and choose Sleepsia Bamboo Pillows for sleeping. Be it, men or women, this choice is fit for everyone. Now that we know that there isn't any clear winner in the competition of 'Sleeping Habits Of Men V/S Women', why not let women and men enjoy their sleep in their own best way possible.
---
---