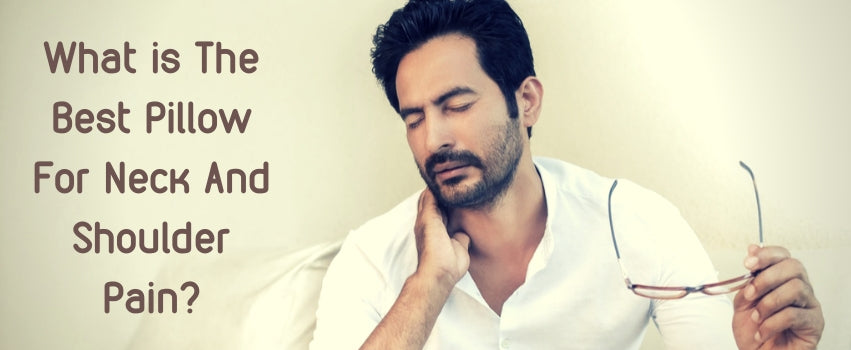 The best pillow for neck and shoulder pain is one that offers good support to the neck, improves alignment of the spine, and reduces pressure on the shoulder. But finding a pillow that meets all of these requirements can be difficult unless you try a memory foam pillow.
In this post, you'll learn more about how bamboo pillows can heal both neck and shoulder pain.
How does Neck and Shoulder Pain Develop?
There are three different sleeping positions:
While neck pain can be a problem for any type of sleeper, shoulder pain generally affects side sleepers…
because the entire weight of the upper body can fall onto the shoulder adjacent to the mattress.
So here's a simple solution to treat both neck and shoulder pain: Get a pillow:
With sufficient loft

: helps to align the neck with the rest of the spine and reduces pressure from the shoulder.

With good firmness: prevents the neck from sinking in.
If you have a pillow that does both these things, then your neck and shoulder pain will disappear in no time.
That's where bamboo pillows come in. They're designed for maximum comfort and minimum stress.
Here are the Best Bamboo Pillows for Neck Pain
Adjustable Memory Foam Pillow
If you prefer sleeping on a standard size pillow with less complicated size and shape, then a memory foam pillow is the best choice for the neck and shoulder pain. This pillow is a just perfect choice for the side sleeper to support your shoulder, neck, and back.
Memory foam pillow is the adjustable and best choice to alleviate the pressure on the shoulder and neck. It is neither too hard nor too soft; the contour design of the memory pillow provides utmost support while sleeping. 
Adjustable design is the ultimate therapeutic for pain and stiffness. The memory foam pillow material is hypoallergenic and breathable for better air circulation and complete safety.
Bamboo Memory Foam Pillow
This Hypoallergenic Bamboo Memory Foam Pillow has a contour shape for proper placement of shoulder and neck. Bamboo pillow provides optimum support to align the shoulders and neck curvature to build a proper shape and comfortable sleeping positions.
A bamboo memory foam pillow made up of bamboo-based viscose outer shell and filled with shredded memory foam to offer absolute comfort and support. It is also Eco-friendly and hypoallergenic which makes it perfect for asthma, allergy, snoring, neck pain, shoulder pain, and breathing problems. 
Bamboo pillow for neck pain is perfect for all side, stomach, and back sleepers and can be customized according to the need and height requirement.
Cervical Memory Foam Contour Pillow
This pillow has a unique design and shape to offer the one suffering with neck pain and shoulder pain. The contour design is the therapeutic solution for the cervical pain and offers a complete solace to sleeping. 
This pillow is a perfect solution for those who can't sleep properly at night due to discomfort. Contour pillow is highly recommended by the Physician to get relief from neck pain and shoulder pain and also those who have a breathing problem. 
It helps to improve blood circulation while sleeping and therapy for insomnia. It adapts the body temperature and adjusts pillow temperature accordingly to stay comfortable and cool while sleeping.
Takeaway
If you suffer from cervical pain, then a bamboo pillow for neck pain can help relieve pressure from joints and heal your pain. Your neck pain may take 1-2 weeks to heal if it's caused by improper posture.
---
---