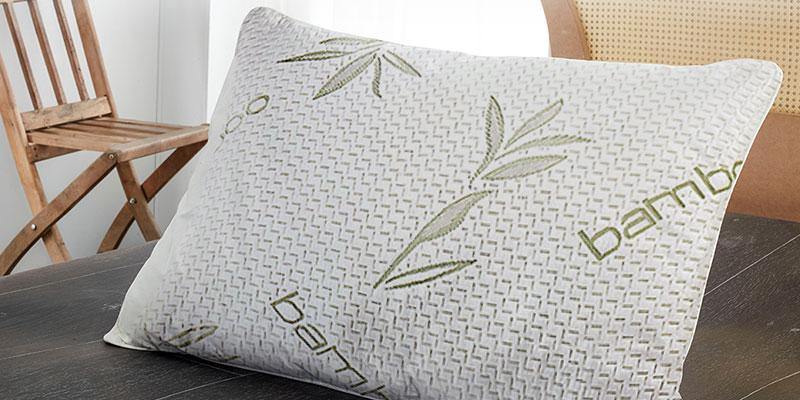 You can fluff your pillow by hand or with a dryer. Both the methods are easy, but you need to select the right one on the basis of the material used as the pillow fill.
Fluffing a pillow gives it a good loft and makes it soft & fluffy to sleep on.
How to Fluff a Pillow by Hand
You can fluff almost all types of pillows with your hands. While it may take some time, it does not damage your pillow.
You can even fluff bamboo pillows and memory foam pillows by hand.
To fluff a pillow by hand, you can grab it at the narrow ends and compress and stretch it for a few minutes. Then keep the pillow down and throw down some punches on it to break the lumps.
In a few minutes, you'll have a completely fluffed up pillow.
Q. How long does it take to fluff a pillow by hand?
Ans. It usually takes 1 to 2 minutes for the pillow to be fluffed up completely by hand. In rare instances, it may take longer.
How to Fluff a Pillow in the Dryer
Note: You should use this method only if it's recommended by the manufacturer. Otherwise, the pillow may get damaged.
Also, the dryer setting needs to be set at the absolute minimum, as too much heat may end up burning the insides of the pillow.
You can use this technique to fluff up the following pillows:
Memory foam pillow

Down alternative pillow (microfiber pillow)

Latex pillow
Just to reiterate, you should check the product manual before using this method to fluff your pillow.
To fluff a pillow in the dryer, follow the steps provided above. You need to set the settings of the dryer at low heat, as too much heat may damage - and even burn - the filling of the pillow. Place the pillow inside the dryer with an agitator, which will pound the pillow and break the lumps formed inside.
In rare cases, you may need to use a dryer several times to fluff the pillow completely. Again, it all depends on the pillow fill.
Drying your Pillow in the Sun
You can even dry your pillow in the sun. You don't have to compress, pull, or knead it. Simply let it rest out in the sun for a few hours. The material automatically fluffs up.
Sunlight can do good for your pillow. It can pull out moisture from the pillow, preventing the development of acne causing bacteria, dust mite, and mold.
Why Should you Fluff your Pillow?
Once you start using a pillow, it usually flattens out, even if the pillow is made of foam.
A flat pillow fails to maintain proper alignment of your spine, leading to the development of severe pain in several areas - such as shoulder, shoulder blade, and neck.
However, fluffing the pillow gives it back its loft, which ensures good alignment of your spine and maximizes comfort.
Conclusion
Fluffing a pillow ensures that all the lumps inside are broken and your pillow is as soft and as high as it can be so that your spine stays properly aligned and you avoid neck pain upon waking up. Use the methods in this post to fluff your new or old pillow.
FAQs
Q. What type of pillows need to be fluffed?
Ans.
The following pillow types require fluffing:
Memory foam pillows

Bamboo pillows

Microfiber pillows (down alternative)

Latex pillow
These pillows often come tightly packed, so they require fluffing.
Q. Should I fluff my pillow after washing it?
Ans. Materials that require fluffing often don't have to be washed. For instance, memory foam does not have to be washed. And even if you do wash a pillow, simply leave it out in the sunlight to dry and fluff naturally.
Q. How to make a pillow last longer?
Ans. You can make your pillow last longer by fluffing it regularly and keeping it away from moisture. Regularly drying the pillow in the sun can further help in reducing the moisture buildup, preventing the pillow from becoming infested by dust mites and molds.
---
---